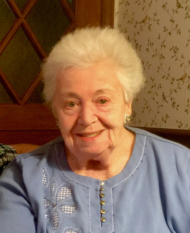 Marian A. Otthofer, 85
July 14, 2017
Marian A. Otthofer passed away on July 14, 2017 at 5:22PM at Lancaster General Hospital. Her life of 85 years was filled with love and affection for and from her husband and best friend, Herbert C. Otthofer for 59 years. Herbert preceded her in death on December 3rd, 2010.
Marian was born in Huntingdon County, PA on May 24, 1932. She was the daughter of the late Frank W. DeVore and Florence E. Stanbrough DeVore Charles and step-daughter of the late Albert B. Charles.
She is survived by two sons, Dwayne D. Otthofer, husband of Michelle, of Alexandria, VA and Dean A. Otthofer, partner of Joel Hernandez, of Bellefonte, PA. Also surviving are a step-brother, Richard E. Charles, husband of Joyce, of Eugene, OR and step-sister, Janet Herman, of Columbia, PA. A brother, Frank W. DeVore Jr., of San Diego, CA, and a sister, Kathleen M. Runk, preceded her in death.
Marian is survived by three grandsons, Ryan Otthofer, husband of Elizabeth, of Ocean Springs, MS; Michael Casselli, of Denver, CO; and Patrick Otthofer, of Alexandria, VA; and a brother-in-law, Jake Otthofer, husband of Jean; seven nieces and seven nephews and one great-grandson, Tate Ryan Otthofer, of Ocean Springs, MS.
Marian was a graduate of Penn Manor High School in 1950. She worked at JC Penny & Co. from 1948 to 1950. She worked at Armstrong World Industries, Inc., Lancaster, PA from 1951 to 1956 in the general office. She served on the Election Board for 31 years in Manor Township.
Marian was an active member of Christ Lutheran Church, Lancaster, teaching Sunday School and served as Chairwoman of the Evangelism Committee for many years. She transferred to St. Paul Lutheran Church, Millersville, where she served on the Evangelism Committee.
In 1950, Marian went to the semi-finals of the American Legion Oratorical Contest, held in East Orange, NJ. She took 2nd place. The title of her speech was "The Constitution and the Opportunities I Receive Under It." Marian submitted her written speech to the Freedoms Foundation Committee under the title, "High School Commencement Addresses." In 1952 she won a "Freedoms Foundation Medal" at the "Chapel of the Four Chaplains" in Philadelphia, PA. Harold Stassen and Dwight D. Eisenhower also received medals on that day.
She served on the Boy Scouts of America, Millersville Chapter, while her sons were active in scouting. Marian enjoyed her home, cooking, collecting cook books, reading, garage sales, writing poetry and listening to music. She was gifted by being able to play piano by ear. She faithfully reached out to help others, her beloved family and friends. Her special joy came from sending notes and cards of encouragement to those in need of support.
A viewing for family and friends will be held from 5PM-8PM, Wednesday, July 19, 2017, at the Charles F. Snyder Funeral Home & Crematory, 441 N. George St., Millersville, PA 17551. Funeral Services will be held at 11AM, Thursday, July 20, 2017, at St. Paul's Lutheran Church, 222 N. George St., Millersville, PA 17551. Prior to the service, a viewing will be held from 10AM to 11AM at the church. Memorial contributions may be made to Hospice & Community Care, PO Box 4125, Lancaster, PA 17604.
Leave a condolence on this Memorial Page
Condolences to the Family
July 27, 2017
Dear Dwayne & Dean,
My Mom, Phyl Iannicelli, told me of your Mom's recent passing. Please accept our sincere sympathy and know that we are thinking of you during this difficult time. Of course, our family shares many wonderful memories of your family through the years. My Dad taught your parents at Penn Manor and then became friends and the families grew – trips to Maine, your house, our house, meals and laughter shared! My brother, Michael, my Mom and I send our love and support.
Susan Iannicelli Ostman
July 20, 2017
I am so sorry for your loss. My deepest regrets and sympathies.

Best Wishes Always,

Tom Range
July 20, 2017
It was with deep sorrow we saw of Marion's passing and want to extend to her family our deepest sympathy. We knew both Herb and Marion, with Herb being John's boss at Armstrong World Industries' floor plant. They were both lovely people and now they are enjoying each other once again. Please know you are in our thoughts and prayers.
With our deepest sympathy,
John and Nancy Straw
Lititz, PA
July 19, 2017
My Dear Dean and Joel: I'm so sorry for your great loss of your mother (RIP). I pray God for you and your family. God bless you. Love Titi Marta
July 17, 2017
Otthofer Family,
I am sorry for the loss of your mother Marian. You may not remember me but my name is Kelli and I was a caregiver to both Herb and Marian. I loved caring for your mom and dad and listening to all of Marian's stories. I am sure Herb was waiting with open arms to reunite with his swee Marian. He loved her dearly. Take Care ~Kelli Harlan
July 17, 2017
Otthofer family,
You may not remember me but my name is Kelli and I was a caregiver for both Herb and Marian. I loved taking care of your parents and listening to your mom's stories 🙂 I have drove past their house twice within the past two weeks and thought of them. I was able to attend Herb's viewing when he passed and I am sorry I can't make Marian's. Please know that I am deeply sorry for your loss but I am sure your dad was thrilled to reunite again with his sweet Marian. My thoughts an prayers are with you and your family. Take care. Kelli Harlan 🙂
July 17, 2017
I always enjoyed my visits with Aunt Marian. Her strong Christian faith and her desire to share it will always be remembered. She was a strong woman who fought through years of poor health, pain and suffering and still had her heart full of love for others. Rest In Peace Aunt Marian. God has a special place for you in Heaven.
With Love and Gratitude,
Donna & Ken Glatthorn
July 17, 2017
We extend our sympathy to your family at this time of loss. It was always so nice to talk to Marian on the phone and serve her through Love In the Name of Christ. I am sure our volunteers will miss transporting her.
Blessings to each of you as family members!
Linda HessLOVE INC Clearinghouse Coordinator
July 17, 2017
Dwayne, Michelle, & Dean,
Please accept my most heartfelt condolences. I will be with you all in spirt for the next few days and weeks to come. My wishes and hopes are that time will soften the blow of your mothers passing. Keep all of the great memories close to your heart.
Thinking of you and your family with Love,
Tom Bressler
July 16, 2017
Dean,

Am so sorry to hear of the loss of your mother. May eternal light shine upon her. And God bless you in this time of sadness. xx. Roberta Jasina
July 16, 2017
I am so sorry for your loss. I know she will be taken care of in death. She seemed to have a full and wonderful life
Lynda Allshouse
Visitation

Wednesday, July 19, 2017
5:00 PM - 8:00 PM
Charles F. Snyder Funeral Home & Crematory
441 North George Street
Millersville, PA 17551

Map and Directions

Visitation

Thursday, July 20, 2017
10:00 AM - 11:00 AM
St. Paul Lutheran Church
222 N. George St.
Millersville, PA 17551

Map and Directions

Services

Thursday, July 20, 2017
11:00 AM - 12:00 PM
St. Paul Lutheran Church
222 N. George St.
Millersville, PA 17551

Map and Directions