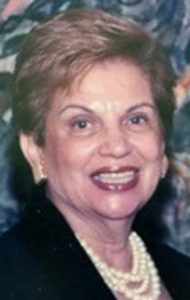 Lucy Matters, 85
August 05, 2018
Lucy Matters, 85, of Boca Raton, FL passed away under hospice care on Sunday, August 5, 2018 at her home. Lucy was born in Clarksburg, West Virginia to the late Catherine (Hondras) and Michael Pikolas. Lucy grew up in Lancaster, PA where she graduated from J.P. McCaskey High School and played the organ in the Annunciation Greek Orthodox Church. She worked as an executive secretary at RCA in Cherry Hill, New Jersey and at Siemens Corporation in Boca Raton, FL. Her husbands, Robert Wagner and George Matters, both predeceased her. Lucy loved flowers and was an accomplished portrait and still-life painter.
Surviving Lucy are her daughter Katherine (Cassie) Wagner-Reiss (husband Martin Reiss); grandchildren Stacey and Jacob; stepson Craig Matters (wife Sara), grandchildren Emma and Zachary; stepdaughter Lisa Gollar (husband Carl) grandchildren Veronika and Kelsey, and 3 great grandchildren Emmalynne, Oliver, and Abigale. She was preceded in death by her brothers: John, Tony and James Pikolas.
Lucy will be laid to rest next to her husband George at Conestoga Memorial Park, 95 Second Lock Road, Lancaster, PA 17603 on Saturday, August 11, 2018 at 11 AM with Fr. Hector Firoglanis officiating. In Lieu of flowers, please send donations to Lynn Cancer Institute, 701 Northwest 13th Street, Boca Raton, FL 33486.
Leave a condolence on this Memorial Page
Condolences to the Family
August 15, 2018
Grandma Lucy,
She was always so sweet when I would call her up on the phone. She always made sure to check up on me, my husband and the kids. Every birthday and Christmas would send us a little something to celebrate.
Even though we were miles apart I always knew she loved me so much. Thank you Grandma for all your love.
I'll miss her!
Kelsey
August 15, 2018
She always remembered her grandchildren's birthdays, and was genuinely kind to everybody. Very sweet lady, always.
August 15, 2018
Wonderful lady, friend and my stepmom. She was a kind loving person, and influenced my life for good, especially as a teenager. She endured my faults and encouraged me to be a young lady, and showed me what being a lady was all about. She was a wonderful example. I will miss her greatly. Lisa.
August 11, 2018
My deepest sympathy for the loss of a wonderful mother, grandmother and friend. I will miss her dearly. Gayle Dodelin
August 10, 2018
My sincerest condolences Mary Xakellis Chapman.
Services

Saturday, August 11, 2018
11:00 AM
Conestoga Memorial Park
95 Second Lock Road
Lancaster, PA

Map and Directions