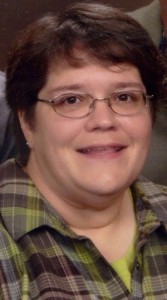 Lorraine L. Sescilla, 42
April 12, 2014
Lorraine L. Sescilla, 42, of East Petersburg, died on April 12, 2014 at Hospice and Community Care, Mount Joy.
Born in Ephrata, Lorraine was the daughter of Joyce (Detweiler) Fasnacht of Ephrata and the late Ivan L. Fasnacht. She is survived by her loving husband Eric J. Sescilla. They were married April 20, 2002 in Akron Park, Akron, PA.
Lorraine enjoyed sewing, listening to Country music. She loved being involved in her two son's school and sports activities.
She worked in the Human Resources Department for the Liquor Control Board for 13 years. Her last place of employment was at Oregon Dairy in the Office Department.
In addition to her husband and mother, she is survived by her two sons, Johnathan and Jeremy Sescilla, and her brother Brian Fausnacht, husband of Aundrea. She was preceded in death by her sister Denise A. Fasnacht.
A Funeral Service will be held at 11AM on Wednesday, April 16, 2014 at Charles F. Snyder, Jr. Funeral Home & Crematory, 3110 Lititz Pike, Lititz PA with Rev. Leo Goodman officiating. A viewing will be held a the funeral home prior to the service from 10-11AM. Interment will be in Heidelberg Church of the Brethren Cemetery, in Lebanon County.
Leave a condolence on this Memorial Page
Condolences to the Family
April 18, 2014
Dear Eric and family,
We are so deeply sorry for the loss of your wife and mother. Although we haven't seen you since you were a very young man, we have been friends with your mom and dad, Fran and Paul, for years and cannot tell you how deeply sorry we were to see of your wife's passing. Knowing your family, you will have much love and support from everyone. And Lorraine is now in the loving arms of Jesus who will protect and love her always. May God give you and your sons the comfort and strength you need to see you through the days ahead.
With our deepest sympathy,
John and Nancy Straw
April 17, 2014

Dear Eric and Family:
My wife and I were deeply sorry to read about Lorraine's passing. Please accept our sincere and deepest sympathy at this difficult time. May your inner strength help you cope with these difficult circumstances. Our thoughts and prayers are with you and your family.
Merle and Donna Schnee

April 16, 2014
Eric, Johnathan and Jeremy,
My heart breaks for you and I can't imagine your pain and grief. Your courage, comfort and love helped Lorraine through her pain and suffering. She's at peace now and will always love you. Remember that you have family that loves you and will be there for you. God bless you and may He walk by your side through this trying time.

Aunt Bernadine
April 15, 2014
Eric, Johnathan and Jeremy,
We are so sorry for your loss. Our thoughts and prayers are with you and your family. We know this has been a difficult time for you all and can not even imagine what you are going through. Johnathan and Jeremy it was so easy to see how much your Mother loved you two. Eric we pray you continue to have the strenghth to get thru this difficult time, you have been so strong for your boys thru all this. It is extremely hard to find the right words to say and comfort you all at this time, but know that we are thinking of you all and praying for you all.
Sincerely,
James, Kelli, Jeremy and Jasmine Morant


April 15, 2014
To Eric, Johnathan and Jeremy, Joyce and Brian,
I am so sorry for your loss. I cannot imigine the loss of a wife, mother daughter and sibling. You and your families are in my thoughts and prayers. She'll be with us in our hearts, sharing in our triumphs and losses. Remember, we will all meet again one day.
Blessings,
Heidi (Weaver) Webster
April 14, 2014
Our thoughts and prayers go out to the entire Sescilla family.
Dea and Gianna Murray
April 14, 2014
On behalf of our wonderful employee Eric and his family:
All of us at Greiner Industries, Inc. our sending our deepest sympathy, condolences, and prayers to the entire family. We pray you find peace during this difficult time.
Sincerely,
Greiner Industries, Inc.
April 13, 2014
So very sorry for the entire families loss, especially Eric and the boys. My thoughts and prayers are with you. Lorraine will forever hold a special place in my heart. RIP lovely lady
Katrina Eyster
April 13, 2014
Words cannot express my sorrow at the loss of my dear friend who has been like a sister to me. Johnathan and Jeremy, your mother was so proud of you and every thing she thought or did put the two of you forefront. You were her light, her breath, her everything. Know that your mother will always be by your side. Eric, I cannot begin to imagine what this means for you. Thankfully you have family and friends to be of support to you. You lost a wonderful, devoted wife and mother. I'm sure she will lend you her strength. Joyce, my heart goes out to you. Losing a second daughter. I hope you are able to find comfort in your family and friends. Bryan and family, Lorraine loved you all so much. The girls were nearly as important to her as her own boys. Again, I hope you can find comfort in each other, your family and friends. Lorraine was a special person. She was fun loving, intellegent and caring. It's sad that her light went out so soon but she made more of an impact on many people's lives than she ever imagined. Bless you all. Remember I mean it when I say to each and every one of you, I am here for you.
Love, Connie
Visitation

Wednesday, April 16, 2014
10:00 AM - 11:00 AM
Charles F. Snyder Funeral Home & Crematory
3110 Lititz Pike
Lititz, PA 17543

Map and Directions

Services

Wednesday, April 16, 2014
11:00 AM
Charles F. Snyder Funeral Home & Crematory
3110 Lititz Pike
Lititz, PA 17543

Map and Directions