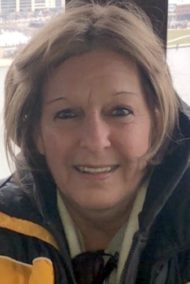 Karen M. Eberhart, 61
March 10, 2019
Karen M. Eberhart, 61, of Manheim and formerly Lititz, passed away at UPMC Pinnacle Lititz on Sunday, March 10, 2019. She was born in Lancaster to Ann M. (Dengler) Miller of Lititz and the late Charles L. Miller, Sr.
Raised in Lititz, she graduated from Warwick High School in 1975 and worked as a transporter for Kat's Auction Services.
Karen was the most compassionate, kind hearted, fun loving, free spirited and selfless person. She was known for giving to others and always put others first. A very proud person, she never asked for help.
She was an active social member of the Manheim VFW Post 5956. Karen enjoyed trips to the Outer Banks, Potter County, Pittsburgh and camping. She was a huge fan of the Pittsburgh Steelers. Karen and her daughter Amber enjoyed a great weekend in Pittsburgh last December.
In addition to her mother Ann Miller, Karen is survived by her daughter Amber M., wife of Ray Redcay, and their son Gavyn Redcay of Lititz; her sister CherylAnn Felger of Glenn Heights, TX, her brother Charles L. Miller, Jr., husband of Diane (Eberhart) of Lititz, several nieces and nephews and her brother-in-law Tony Johnston of the Outer Banks in NC.
Her father Charles, Sr., her sister Bonnie L. Johnston, her former husband Dave Eberhart and her former partner and father to Amber, Earl R. Heckel, III, preceded Karen in death.
Karen's family will greet friends from 2-3 PM, followed by a Celebration of her Life at 3 PM with Pastor Mark J. Thiboldeaux officiating, on Friday, March 15, 2019, at the Charles F. Snyder Jr. Funeral Home & Crematory, 3110 Lititz Pike, Lititz, PA 17543. Interment will be private. In lieu of flowers, kindly consider making a memorial contribution to the American Cancer Society, 314 Good Drive, Lancaster, PA 17603
Watch the tribute video
Leave a condolence on this Memorial Page
Condolences to the Family
March 15, 2019
We were sad to hear of Karens passing. We send our love and prayers to the family thru this difficult time. We will always remember her smile and laughter. May her soul rest in peace and harmony. We apologize for not being able to make it to celebrate her life.
March 14, 2019
The video tribute does a very nice job of showing part of Karen's life, including when she was young and full of hope for the future. That's exactly what God wanted for us, to have endless hope for the future. Even though that was interrupted by the rebellion in Eden, Jesus assures us at John 17:3 that it will be corrected. At that time Karen and others that Jesus resurrects will have the life and comfort that Jesus promised at Revelation 21:4 "And he will wipe out every tear from their eyes, and death will be no more, neither will mourning nor outcry nor pain be anymore."
March 14, 2019
To my cousin's and auntie,
I am so sorry to hear of the passing of my eldest cousin, Karen. My heart is with you all.
Candy Speakman

March 14, 2019
The first time I met Karen she hit the vehicle I was driving,
Karem was working for Hollingshead at the time. Karen got out of her vehicle cussing, waving her arms and talking 90 miles a minute, I got out of my car laughing at her, Karen stopped, looked at me and said "what are you looking at?" You" I said. She smiled and we took care of what was needed. Fast forward a few, Kat started moving vehicles for me and Karen was part of the team. I really did not remember the accident but Karen did and she always gave me the sideye look, finally I put it all together and I got to laugh with Karen again. She was a good soul and will be missed by friends.
Brad
March 14, 2019
Condolences on the loss of Karen. She was as beautiful on the outside as she was on the inside. I have fond memories of Karen which I will always cherish.
March 13, 2019
Dear Charles and Diane,
I am so very sorry to learn of the passing of your dear sister. There are no words to heal you at this time, but I pray that you will feel the prayers and hugs that surround you. With much love, from my family and I. Carol Hengst and families.
Visitation

Friday, March 15, 2019
2:00 PM - 3:00 PM
Charles F. Snyder Funeral Home & Crematory
3110 Lititz Pike
Lititz, PA 17543

Map and Directions

Services

Friday, March 15, 2019
3:00 PM
Charles F. Snyder Funeral Home & Crematory
3110 Lititz Pike
Lititz, PA 17543

Map and Directions