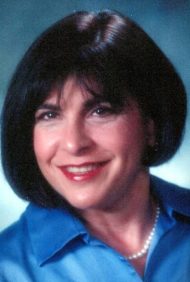 Julie Pappas Dinkel, 57
December 29, 2018
Julie Pappas Dinkel, 57, died at her Manor Twp. home on Saturday, December 29, 2018, surrounded by family and friends. She was born in Worcester, MA to Joan S. (Eliopulos) Pappas and the late John Pappas. Julie was the loving wife of William H. Dinkel, Esq. for 27 years.
A Graduate of J. P. McCaskey High School, she attended the University of Maryland.
Julie was a licensed realtor for nearly 25 years. Julie was dedicated to the industry and passionate about helping people achieve their dream of home ownership. During the course of Julie's career as a real estate professional she co-owned and operated a nationally franchised real estate brokerage firm in Lancaster, she served on the Board of Directors of the Lancaster County Association of Realtors, and repeatedly earned one of the highest designations awarded by a nationally franchised real estate organization, performing in the top 2% of realtors in the nation.
She was a parishioner of Saint Leo the Great Catholic Church and previously was a member of Annunciation Greek Orthodox Church.
Julie was passionate about life, courageously and relentlessly battling cancer for 5 ½ years. Quick-witted, Julie loved making people laugh, spending time with family and friends, traveling, and being a successful contributor to the real estate industry in Lancaster County.
In addition to her mother Joan and husband Bill, Julie is survived by her brother James Pappas, husband of Alex Clark. She was very close to her mother-in-law Gladys, wife of the late Francis Dinkel, and sisters-in-law: Dianne, wife of Bill Orem, Sandy, wife of John Zercher and the late Fran, wife of the late Robo Marley. Also surviving Julie are her nieces and nephews: Angela Quinn, Taylor and Scott Culp, Benjamin and Chad Marley, Mike and Chris Zercher, Marina Pappas Barbosa and Andreas and Mcella Pappas; as well as many great-nieces and great nephews
Julie's family thanks the staff of LGH, Masonic Village TCU and Masonic Village Hospice and Home Instead Senior Care for the exceptional care given to her.
Julie's family will greet friends from 9:30 to 11 AM on Saturday, Jan. 5th, followed by a Mass of Christian Burial at 11 AM with The Rev. Peter I. Hahn as Celebrant, at Holy Trinity Catholic Church, 409 Cherry Street, Columbia, PA 17512. Interment in Holy Trinity Catholic Cemetery. In lieu of flowers, memorial contributions may be made to Masonic Village Hospice, One Masonic Drive, Elizabethtown, PA 17022-2219.
Leave a condolence on this Memorial Page
Condolences to the Family
January 19, 2019
Dear Family and Friends,
Please accept my sincere condolences on the loss of your loved one. (Acts 9:36-41)
January 06, 2019
My deepest condolences for the loss of this beautiful and wonderful soul, she is at peace now. My prayers to the Dinkle family and the Pappas family. I will keep you all in my prayers. God Bless you all during this time of loss.
January 05, 2019
DINKLE AND PAPPAS FAMILY,
MY SYMPATHY ON THE DEATH OF JULIE.WE KNOW SHE IS IN A BETTER, PEACEFUL PLACE.I ENJOYED TALKING WITH HER ABOUT REAL ESTATE AND THE FAMILY.
January 05, 2019
We are so very sorry for your loss. We feel a loss as well, as we became neighbors at the start of Julie's battle and missed the opportunities to spend time getting to know her better. There is a short distance between our front doors. We are here for you. Much love, Dennis and Kelly.
January 05, 2019
Bill:
My thoughts and prayers are with you and your family at this time.

January 04, 2019
To Julie's family,
I have worked with Julie several times. I always enjoyed working with her. She was professional but we also had fun serving our clients together. I could always count on a laugh with Julie. Although I am crying now, I know that in the future I will be smiling as I think of one of the many encounters I had with her. It was a joy knowing her. God bless you and Jim and the whole family. Anne Pyle
January 04, 2019
May God hold each of you close to his heart in peace! To all who knew Julie, we all understand our Lord's will. Bill, you still are given life, we must live God's will. My contact is: Lynn Landis (Dinkel) 676 Rife Run Rd., Manheim Pa 17545/7176644237/email:Munchlynn4@Gmail.com love to all-your cousin! Sorry I couldn't attend the service but my condition has given me walking disability.
January 03, 2019
Bill
So sorry to hear of your wife's passing. While I never had the privilege of meeting Julie, the way you talked about her I could tell she was a very special lady. I know this was a very tough fight for both of you, but know that her sufferring her on earth will pay great dividends in heaven. I know things will continue to be hard for you as well, but remember that God never gives us more than we can handle.
Gregg

January 02, 2019
Bill, we were very sorry to hear of Julie's passing. We are thinking of you and your family during this challenging time.
January 02, 2019
So very sorry for your loss, Bill. As part of the Berkshire Hathaway Family, I have come to know you, and I'm praying for comfort & peace for you and your family.
January 02, 2019
Hello Bill:

Although we have not spoken in quite some time, I was taken back by the notice. Spending the holidays here in Florida, my thoughts and prayers are w/you.
January 02, 2019
I am so very sorry. I know words are never enough but you are in my thoughts and prayers.
January 02, 2019
My most sincere condolences to you and the family, Bill. Julie will be greatly missed! My thoughts and prayers are with you as you walk in this journey of loss of such a beautiful woman.
January 02, 2019
Bill,
I am so sorry to hear of Julie's passing. What a shock to see that. After 27 years of marriage I'm sure you will miss her greatly. Not everyone has that kind of marriage and I know you two were great together. My deepest condolences. Will keep you in my prayers.
Deb Geist
January 02, 2019
Julie helped us sell our house in 1 month during the bad housing market in late 2006. She was outstanding. My wife and I are sorry to see she has passed. She was a great real estate agent. We will always remember how she helped us. John and Andrea Berry
Visitation

Saturday, January 05, 2019
9:30 AM - 11:00 AM
Holy Trinity Catholic Church
409 Cherry Street
Columbia, PA

Map and Directions

Services

Saturday, January 05, 2019
11:00 AM
Holy Trinity Catholic Church
409 Cherry Street
Columbia, PA

Map and Directions