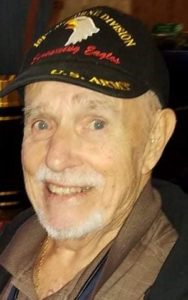 John F. "Jack" Muldowney, 87
February 04, 2019
John F. "Jack" Muldowney "BB the B-Safe Clown", 87, of Manheim, PA, passed away peacefully on Monday, February 4th, 2019, at Good Samaritan Hospital in Lebanon, PA. He was the son of the late James Muldowney and Ella Brennan Muldowney. He was the husband of Patricia Muldowney with whom he would have celebrated their 28th wedding anniversary this May.
Jack was born December 6, 1931, in Mount Carmel, PA and the 2nd of eight children. He was a 1950 graduate of Mount Carmel Catholic High School. Jack played football, acted in his high school's play productions, and was known as the "Class Clown". After a brief amateur boxing career, Jack entered the US Army and served in Germany during the Korean War. Jack later moved to New York City and was employed as a chauffeur. He had many stories of celebrity clients. In the late 1950's Jack appeared on the TV shows "Who Do You Trust," where he met Johnny Carson, and the game show "What's My Line."
After moving to Lancaster in the late 1950's, Jack worked for the Bearings Company and later the PA Department of Labor and Industry as a State Safety Inspector, from which he retired in 1988.
Jack had a passion for safety, especially fire safety, and it was during his career as a Safety Inspector that Jack's "clowning around" got serious. He created "BB the B-Safe Clown" in the late 1970's and traveled throughout PA and beyond teaching young children fire safety. He twisted common fairy tales around to contain a safety message such as Little Red Riding Hood including a fire extinguisher in her basket of goodies for grandma. His program was also part of a WGAL Saturday morning TV show, "The Incredible Dr. Dudd Show." His safety program went on to be recognized nationally.
In addition to his career with the PA Department of Labor and Industry, Jack was co-owner of Pinch Pond Family Campground, Manheim, PA, for 42 years.
Jack was a member of Saint Richard's Catholic Church, Manheim, PA. He was also a member of The Elstonville Sportsman's Association.
Jack enjoyed many exciting trips with his wife Patricia, family, and friends, Ken and Evette Dimm. He loved music and singing, and he was never shy with a microphone. He also enjoyed watching game shows and listening to Willy's Roadhouse. He was an avid hunter, story and joke teller, and his laugh will be missed by many.
In addition to his wife Patricia, Jack is survived by two daughters, Mary Dettinger (wife of Steve), and Ellen Tabar (wife of Donald); three step-daughters, Barb Kirchner, Beverly Misnik, and Jennifer Sheaffer (wife of Jason); eleven grandchildren, and seven great-grandchildren. Also, his sisters, Jane Muldowney and Kathy Simmons (wife of Jeff); sister-in-law, Loretta Muldowney, as well as many nieces and nephews. He is proceeded in death by his first wife, Barbara H. Muldowney; his daughter, Joanne Reese; his brothers, James, Raymond, and William, and sisters, Alice Serviss and Ann Marie Debolt.
A viewing will be from 7-9 PM on Monday, February 11, 2019 at the Charles F. Snyder, Jr. Funeral Home & Crematory, 3110 Lititz Pike, Lititz, PA 17543. Viewing will continue from 9-10 AM with a Mass of Christian Burial to begin at 10 AM on Tuesday, February 12 at St. Richard Catholic Church, 110 N. Oak Street, Manheim, PA 17543. Jack will be laid to rest at All Saints Cemetery, 172 All Saints Road, Elysburg, PA 17824. In lieu of flowers, contributions may be made to the Cleveland Clinic/Philanthropy Institute, P.O. Box 931517, Cleveland, OH 44193.
Watch the tribute video
Leave a condolence on this Memorial Page
Condolences to the Family
February 11, 2019
Sending my condolences to your family. I worked with Jack at the Bearings Company. Jack was certainly a clown! We had a lot of good times together. Once you came to St Mary's as BB the Clown. The Nuns and the kids loved it! Jack Lochonic
February 11, 2019
Patti, Please know that I am thinking of you & your family.
So sorry for the loss of your dear husband. I am keeping Jack in prayer. Love you.
Duddy
February 09, 2019
My deepest sympathies to all of the Muldowney family. Jack was truly a remarkable man and was loved by so many. He has been a part of my life since I was three years old, I loved and admired him as much as my own father. I will treasure the memories and I am honored to carry his memory in my heart.
I pray that each of you will find comfort In the days ahead and I can almost guarantee that he will make his presence known to you in so many ways. Rest in peace BB😢🎈
Boo

February 08, 2019
Deeply sorry to hear of Jack's passing. He was a wonderful man. I got to know him better in recent years at Pinch Pond. God bless his family and friends at this time of sorrow.
February 07, 2019
Deepest Sympathy A message of sincere and heartfelt sympathy and understanding far deeper than words can say
February 07, 2019
Dear Patty & family,
So very sorry to hear that your husband, Jack passed away. You are all in our thoughts & prayers.
Love,
Tom & Jane Burger
February 07, 2019
Mary I am so sorry for the loss of your Father. My thoughts and prayers are with you and your family. Cindy (Stumpf) Schwarz
February 07, 2019
Patty & family, We are so very sorry for your loss.Prayers for you all.
Brenda Busansky & family.
February 06, 2019
Uncle Jack, you will surely be missed but you left memories a plenty for those blessed by his presence in their life. From holding my mother's hand as you sang Too-Ra-Loo-Ra-Loo-Ral the evening before she passed to the endless memories of summers at Pinch Pond, the little slice of heaven you so lovingly created, to your contageous laugh, which pulled you in and warmed your heart to hear. Thank you for touching my life more than once.
Kevin Deal

Visitation

Monday, February 11, 2019
7:00 PM - 9:00 PM
Charles F. Snyder Funeral Home & Crematory
3110 Lititz Pike
Lititz, PA 17543

Map and Directions

Visitation

Tuesday, February 12, 2019
9:00 AM - 10:00 AM
St. Richard Catholic Church
110 N. Oak Street
Manheim, PA

Map and Directions

Services

Tuesday, February 12, 2019
10:00 AM
St. Richard Catholic Church
110 N. Oak Street
Manheim, PA

Map and Directions