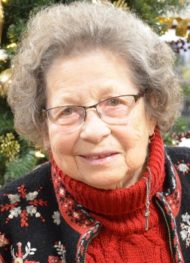 Joanna Boyd [McLaughlin] Bailes, 87
January 03, 2019
Joanna Boyd [McLaughlin] Bailes, 87, died on January 3, 2019, at St John's Herr Estate in Columbia PA, where she had been a resident since December 2016.
Born April 14, 1931, in Millersville PA, she was the youngest child of Harry A. and Delcina C. [Boyd] McLaughlin. Joanna was born in her parents' home, 58 East Cottage Avenue, one of the oldest log cabin homes in Millersville.
She was predeceased in death by her husband, William F. Bailes, who died in August 2016. They had lived on Long Lane, Lancaster. Bill Bailes was a social studies teacher and active in regional athletics. For decades, Joanna could be seen cheering at almost every MU football game (where Bill served as a kicking coach). Their calendar revolved around MU's Homecoming parade.
Joanna and Bill were exceptionally generous people – contributing to local, regional, and national nonprofits (especially wildlife and conservation organizations).
A longtime nurse at Millersville State College, Joanna Bailes was a graduate of Lancaster General Hospital's school of nursing.
Joanna was a modest person, but she was proud of two particular achievements: 1) winning the women's athletic award from Penn Manor High School (she remained an active sports fan in the nursing home via TV, and she died with her hockey stick and an Eagles pennant close by); 2) she was most proud to have served as a registered nurse. To Joanna, nursing was a noble profession, and she practiced it with skill and dedication. She was never without a First Aid kit – and frequently a stethoscope!
Joanna was also a terrific cook and baker. She and Bill were known for hosting Super Bowl parties, Kentucky Derby parties, World Series parties – if there was a sports event, Joanna cooked to celebrate. Neighbors, friends, and relatives were lucky recipients of Joanna's hospitality over decades.
Jo and Bill had no children, but many cherished pets were fortunate to be part of the Bailes household. Their German shepherd, Gretchen, held top rank.
Joanna was predeceased in death by her six siblings: John McLaughlin, Ruth [McLaughlin] Houseknecht, Mary Jane [McLaughlin] Detz, Harry McLaughlin, Nancy McLaughlin, and Ken McLaughlin. She remained in close phone contact with her cousin, Arlene Lancaster of Syracuse NY. She is survived by nephews and nieces.
Since she was a young child attending Sunday School, Joanna had been a devoted member of St Paul Lutheran Church in Millersville. After Jo and Bill married, they were both loyal and active members of St Paul. Upon moving to St John Herr's Estate, Joanna made wonderful new friends, but she sorely missed seeing the friends she had worshipped with her entire life at St Paul.
Per Joanna's request, interment will be a private graveside service. A memorial service will be held in the spring, to be announced at a later time. No flowers, please.
The kindest way to honor Joanna Bailes is to donate in her name to the Pennsylvania College of Health Sciences, 850 Greenfield Rd, Lancaster PA 17601 or to Lancaster Hospice & Community Care, 685 Good Drive, Lancaster PA 17604 or to the Lancaster County Conservancy, 117 S. West End Ave, Lancaster PA 17603.
Leave a condolence on this Memorial Page
Condolences to the Family
January 20, 2019
Sorry to hear about our good friend Jo. We have been good friends with Bill and Jo since the 60's. Jo was actually a nurse at MSC when I was in college. Bill and I got to know each other through coaching and teaching at L-S. I still want to honk the horn every Tom I pass their place on Long Lane just as I did in the old days. I would love to come to the service.
January 13, 2019
I will Miss Jo. I was A nurse at St John's Herr Estates and spent good times caring for her. Many condolences to her family. My prayers are with you.
January 13, 2019
Joanna was a friend of my mother, Joanne Dombach, and then a friend of mine, especially through my years at Millersville University. What a great person!