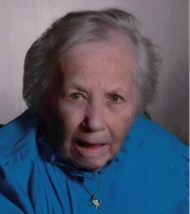 Joan Arlene (Weaver) Rahe, 88
February 24, 1932 - November 14, 2020
On Saturday, November 14, 2020, Joan A. Rahe, after a hard-fought battle with Alzheimer's disease, and having completed all her assignments in this world with outstanding devotion and success, moved on to bigger and better things. Born on February 24, 1932 in Lancaster, she was 88.
Joan was a graduate of J.P. McCaskey High School, Class of 1949, and was employed by Dr. Joseph Medwick as a secretary and medical assistant for 15 years. She was a 62 year member and past president of the Beta Sigma Phi sorority, a member of the Order of the Eastern Star, and served in the USO of Lancaster when she was younger. Joan loved playing cards and other games, especially with her grandchildren. She loved to babysit, not only her grandchildren but for several exercise groups. Along with her husband Charlie and their family, they enjoyed camping and boating, spending many days cruising the Chesapeake Bay and Delaware areas onboard her namesakes, The J Arlene and The Lady J.
Joan's primary assignment was caring for and nurturing her family. She leaves behind her husband of 57 years, Charles H. Rahe, II, and a legacy of 3 sons, 3 daughters-in-law, and 6 grandchildren: Christopher C. and Anita C. Rahe of Lancaster; Scott A. and Debbie M. Rahe of Columbia; and Douglas R. and Renee H. Rahe of Columbia. Grandchildren are Nathan C., Nicholas C., Derek M., Emily S., Zachary D. Rahe and Kayla R. Soders. Also surviving is her sister, Kathy Hogg of North Carolina, and numerous nieces and nephews. Preceding Joan in death were her parents Reba Mae (nee Brodhecker) and Jacob B. Weaver, her sister Shirley M. Sengstacken and her brother Richard K. Weaver.
A viewing will be held on Thursday, November 19, 2020, from 4 PM to 7 PM at the Charles F. Snyder Funeral Home & Crematory, 441 North George Street, Millersville, PA 17551. Funeral services and interment at Millersville Mennonite Cemetery will be private. In lieu of flowers, contributions in Joan's memory may be offered to St. John's Episcopal Church, 321 W. Chestnut St., Lancaster, PA 17603.
Watch the tribute video
Leave a condolence on this Memorial Page
Condolences to the Family
November 29, 2020
It was such a gift you gave us Charlie, seeing your sweet devotion to Joan at St Annes. So sorry for your loss. Wishing you peace and beautiful memories.
Jen Parschauer
November 21, 2020
Dear Charlie: I want to express my deepest sympathy to you and your family on Joan's passing. Your devotion to your beloved wife was astounding. I remember the day I brought Joan to see you both for a window visit and outside visit. I am sorry I was not able to be with Joan went she left this world as I have been on a medical leave due to a severe injury and am uncertain at this time if I will be able to return to St. Anne's. Never will I forget you and Joan. It was a honor and joy to take care of her. God bless you and the entire family. Sincerely, Pat Fasnacht, RN.
November 21, 2020
Charlie, Sharon and I just heard of the passing of your beloved wife Joan. Our thoughts and prayers are with you and your entire family. No doubt you all have countless fond and joyous memories to help bring comfort. God bless you Chuck and your fine family, Mike and Sharon Corradino.
November 20, 2020
Charlie and Family,
Our deepest sympathy and support to you and your family during this most difficult time. i am sure that Joan will be deeply missed by all.
With Sympathy, Scott and Nora Frick

November 19, 2020
My condolences Charlie. Harry Sangrey
November 19, 2020
Our hearts are with you, Charlie. So glad we had the privilege of meeting and spending time with you and Joan at St. Annes. Patricia Foreman and Mark Clark
November 18, 2020
So sad to hear of Joan passing she was such a wonderful person. Charlie know that we are thinking of you and your family at this difficult time.
With deepest sympathy Belinda and Earl Ament
November 17, 2020
Jeff and I had the privilege of joining Joan on a few adventures with her wonderful family. Jeff went to school with Scott and Chris and formed a bond that he shares to this day. Whenever I had the chance to spend time with Joan, she always made me smile. I was so impressed with her dance moves. Such a beautiful woman.
God bless her and her family!
Love Jeff and Lori Mahoney
November 17, 2020
I am fortunate to be the Mother of Charlie and Joan's daugher in law, Renee'. Such a loving and giving woman she was always the Grammy that played with her grandchildren. Such a loss for their family, I hope all those precious memories of fun in the sun and water will continue to make them smile.
Much love,
Kathy Leaman


November 17, 2020
Joan and Charlie were our boat neighbors at Bowley's Marina over 20 years ago and have been close friends ever since. We loved Joan. she was a wonderful women and a shared a birthday with our daughter. Everyone at the marina who knew her will miss her. Rest in Peace Joan.
Randy and Lorraine Newnam
Visitation

Thursday, November 19, 2020
4:00 PM - 7:00 PM
Charles F. Snyder Funeral Home & Crematory
441 North George Street
Millersville, PA 17551

Map and Directions