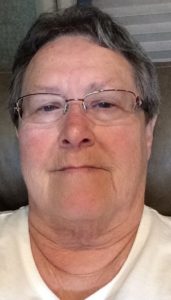 Janice M. McCaskey
October 05, 2018
Janice M. McCaskey, 69, of Lancaster passed away October 5, 2018, at the Lancaster General Hospital. Jan was the daughter of the late Walter D. McCaskey and Dorothy (Hildebrand) McCaskey of Lancaster. She is survived by her spouse and partner of 31 years, Roxanne C. Koch.
Jan was a graduate of Lancaster Catholic High School in 1966, where she was a member of the band in the woodwinds section. Jan was also an accomplished pianist.
Jan served our country as a Staff Sergeant in the United States Air Force, stationed in San Bernardino, California during the Vietnam War. She was a 45 year member of the American Legion Post 34.
Following her Air Force service years, she moved to Massachusetts and was employed by McGraw-Hill Publishing Company. When she returned to Lancaster, she was a manager at Burger King, and then started a career at the United States Postal Service, retiring as Postmaster of Marietta, PA.
Jan was passionate about her "fur kids". She raised a Jack Russell, Buddy; and Cavalier King Charles Spaniels: Meg, Nikki, Shadow, Dani, Becca, and Abby. Buddy, Meg and Nikki. Jan trained Buddy, Meg, Nikki and Shadow as registered therapy dogs with the Alliance of Therapy Dogs. She volunteered with first- grade readers at Hambright Elementary School in the Penn Manor School District. Jan also annually brought the dogs to Hamilton Park Church Preschool to educate the children. Another favorite past time of Jan's was camping with family. She enjoyed traveling, more recently enjoying a seasonal campground in Carbon County.
Jan was a fabulous Aunt to her numerous nieces and nephews who have very fond memories of spending wonderful sleep overs filled with food, movies, games, crafts, and of course, dogs! Jan's siblings, cousins, and in-laws will fondly remember many good card games of Five Crowns with Jan. She was a competitive player, but always gracious whether she won or lost.
Besides her spouse, Jan is survived by her siblings: Joseph W. McCaskey (Virginia) of Ephrata, David A. McCaskey (Donna) of Landisville, Curtis R. McCaskey (Kathy) of Lancaster, Deborah A. Lynch (Jerome) of Willow Street, Annice I. Bailey (Mark) of Willow Street, Amy D. Gregg (Dean) of Salunga, and Colin R. McCaskey (Debra) of Mount Joy.
A memorial service for Jan will take place at Charles Snyder Funeral Home & Crematory, 414 E King St. Lancaster, PA on Monday, October 15 2018 at 1:30PM. Interment will follow at Indiantown Gap National Cemetery at a later time. In lieu of flowers a donation may be made in honor of Jan to Cavalier Rescue USA, c/o Carolyn Stigler, 6400 N. Paseo Tamayo, Tucson, AZ 85750, or online at cavalierrescueusa.org/donate.
Leave a condolence on this Memorial Page
Condolences to the Family
October 15, 2018
Our love and prayers are with you guys always!
October 12, 2018
Dear Roxanne, John and I are deeply saddened for you and for not having had the opportunity to know and enjoy Jan's company over many, many years. We thought she was such a kind soul, easily reflected in who she chose for a partner, you, and all her adorable puppies. In my last conversation with her just last month, we talked about how much we enjoyed "paying kindness forward". I will always remember her when carrying out such acts towards others. Please know we are here for you, you are not alone. Our love, our prayers, and know that Jan is now in heaven spreading love everywhere including Rainbow Bridge! John and Maria Aschenbach
October 10, 2018
Roxanne, there are no words to ease the pain. Please accept our sincere and deepest sympathy for your loss. We haven't known each other for long but please know that we are here if there is anything we can do as you go through this unimaginable journey. Our thoughts and prayers are with you. Peg and Sally ( Stoneybrook). Prayers as well for the entire Mccaskey family.
October 10, 2018
Annice, Amy & Roxanne,
I am so sorry for your loss. My thoughts & prayers are with you and your family.
Hanh Luong
October 10, 2018
We are so VERY to hear this. Rox, you have our love always. As you know, I knew Jan years before our postal careers, we go way back! Our thoughts and prayers are with you.
Annice, Amy, Deb and the whole McCaskey family, we are sorry, from the bottom of our hearts. Love, hugs, tears and hope go with you all. She will be deeply missed.
Love, Bob and Sandy Senft
October 10, 2018
Roxanne, So sorry Rox for your loss. Our sympathy .
Services

Monday, October 15, 2018
1:30 PM
Charles F. Snyder Funeral Home & Crematory
414 East King Street
Lancaster, PA 17602

Map and Directions