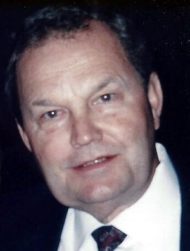 J. Richard Leader, Jr., 87
February 01, 2019
J. Richard Leader, Jr. passed away on Friday, February 1, 2019 at the Glen at Willow Valley Communities with his devoted and loving wife of 16 years, Audrey Slater, at his side. He was 87 years old.
Dick was born January 9, 1932 in Shamokin, PA to the late J. Richard Leader and the late Ruth Ismay (Gearhart) Leader. He leaves behind his son, J. Richard Leader, III and wife, Maureen, of Lancaster; his daughter, Amy and her husband, Paul Massing, of Plymouth Meeting, PA. There are three grandchildren: Stephanie Rae Leader, Catherine Elise Leader, and Christopher Patrick Massing. Dick also leaves behind step-daughter, Sally Collins of Kirkwood, MO and a brother, Robert Leader, Shamokin. He will also be lovingly missed by dear friends, Dirk and Judy Suereth, Lancaster.
Dick graduated from Shamokin High School, Franklin and Marshall College, and Temple University's Dental School. He served as a captain in the U.S. Air Force at Patrick Air Force Base from 1960-1962. Dick's dental practice was located on Estelle Drive in Centerville, and with his easy personality, dry sense of humor and jokes, he made even a dentist appointment pleasant. On his days off he enjoyed many, many rounds of golf at Lancaster Country Club with his best friend, Robert Gates. Sometimes Bob's wife, Nancy, along with Audrey, would join the two to round out a foursome.
After retirement in 2003, Dick and Audrey moved to Dunnellon, FL, enjoying more golf with new friends at the Rainbow Springs Country Club and the Juliet Falls Country Club. The couple moved back to Lancaster to Willow Valley Communities in 2017.
The Leader family wishes to thank Lancaster General Hospital, Hospice and Community Care of Lancaster, and the team members of Willow Valley Communities for their extraordinary care of Dick. Services will be private and at the convenience of the family.
Leave a condolence on this Memorial Page
Condolences to the Family
February 17, 2019
Doctor Leader – the only dentist I had until I moved from the are after college. At 10yrs old I knocked both my front 2 teeth out – both dangled from the gums. As I recall it he sewed them back in and told my parents time will tell if it works out. It did. After moving back here our paths crossed 25yrs later. I recognized him instantly and I was shocked he remember me as well! As I extended my hand to shake his – both his hands went to my upper lip and he wanted to look at his work. What a memory! My family loved him, he visited them often and we were set to see him later in February. He will be missed.
February 07, 2019
My family went to Dr. Leader until he retired. We were very fond of him.He was the only dentist I didn't dread going to, always looked forward to seeing him.He was always in a good mood andI enjoyed our talks about current events and politics.He always treated me like a fearful child and I appreciated it so much.
I've thought about him many times these past years and would ask my current dentist what he had heard about him.
He was so funny, one time after my husband had some work done, he sent him home with a note for me. The note said that I couldn't give him any work to do as he needed to rest all day due to the work he had done on him. We had such a good laugh.

With deepest sympathy to the family…

Karen L Rohrer
February 06, 2019
I was one of Dr. Leaders first patience when he set up practice. He spent 2 hrs. pulling and cutting out a tooth, with no nurse to help. I was a teenager then. He was my dentist till he retired. The work he did on me was way ahead of his time. My dentist often comment on the beautiful work he did. I think of him often. He was all that was said in the paper and more. He was a blessing to many. God Bless you all.
Love L. Eichler
February 05, 2019
My father and Dr. Leader were two peas in a pod. I knew Dr. Leader as a young man over the years, and I had a chance play golf with Dr. Leader just a few times with my Dad…and remember the constant, light-hearted back-and-forth during those rounds. It was a real treat and a lot of fun. Later, when I would run into Dr. Leader at some picnic at LCC, we would shake hands and we would see whose grip was strongest. It was a pleasure knowing Dr. Leader….always a smile and usually a joke, always made people around him feel at ease. That's how I'll remember him.
Brian Gates