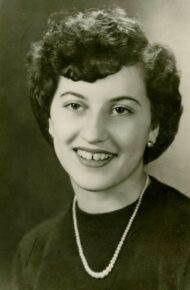 Gloria Ann Free, 87
September 22, 2021
Gloria Ann Free, 87, a resident at Pleasant View Communities, passed away in the early hours on Wednesday, September 22, 2021. Gloria was married to Jerome, Jerry, Free for 64 years. Jerry passed away in September 2019. Gloria was the daughter of the late Lorenzo and Filomena Brignola. She lived her whole life in Lancaster, PA.
Gloria graduated from Lancaster Catholic High School in 1951. She worked at Armstrong World Industries for 20 years in Quality Assurance as a secretary. Gloria was a founding member of St. Leo the Great Catholic Church. She was a member of the Ladies Auxiliary. Gloria volunteered and ran St. Leo the Great School library for many years.
Gloria loved her family and family times together! Having everyone together whether for a holiday or a weekend made her happiest. Gloria loved baking, puzzles and gardening. She was in two card clubs, playing bridge and pinochle with her friends. Gloria enjoyed traveling and cruises in the USA, Europe and the Caribbean.
Surviving Gloria are her four children: Jessica, wife of Gordon Hotchkiss, of England; Regina, wife of William Benonis of King of Prussia, PA; Eileen, wife of Scott Little, of Mountville, PA; and Jerome Free Jr. husband of Deborah, of Lansdale, PA. Also are surviving are six grandchildren: Lloyd, Julia, Simon, Laura, Rachel and Caroline. There are five surviving great grandchildren: Nadia, William, Hermione, Benjamin and Rowan.
Family and friends are invited to a viewing from 10:30 – 11:30 AM and a Mass of Christian Burial at 11:30 AM on Friday, October 1,2021 at St. Leo the Great Catholic Church, 2427 Marietta Ave, Lancaster PA. Interment will follow in St. Joseph New Catholic Cemetery.
In lieu of flowers, contributions in Gloria's memory may be made to Hospice For All Seasons, 280 S. Hill Drive, Grantville, PA 17028 or to St. Leo the Great Church 2427 Marietta Ave. Lancaster, PA 17601.
Leave a condolence on this Memorial Page
Condolences to the Family
October 13, 2021
Condolences to the family. Gloria was my mom's (Marge Wardrop) oldest and best friend, and I remember playing on the side porch of the Brignola home when I was a little girl. She was a wonderful lady and I know the family will miss her and cherish the memories of a lifetime. Bernita Wardrop Stadler
October 05, 2021
Dear Jessica and all the Free family,
I am so sorry to hear of your mother's passing. I have many fond memories of times at your house on Barrcrest, our days at St. Leo, and sharing carpools from here to there. Your Mom was also welcoming and interested in everything going on with you and your friends. God bless and take care. Susan FitzGerald
September 27, 2021
Dear Free Family,
I was sorry to hear of your mother's passing. I have know your mother for about 40 years. I worked with her at Armstrong when I was fresh out of high school. She taught me the game of pinochle and the correct way to drink tea. (minus the cream and sugar). I enjoyed hearing all of the stories about you and your children. You were the joys of her life in every sense of the word. I enjoyed going to your parent's house for our Armstrong girl gatherings, we also had a great time. I loved your mother's famous Christmas cookies (especially the gingerbread, I was never able to get the recipe), she would always save me some extras. Later in my Armstrong career, i again got to work with your mother. I met my husband Earl while i was working with her the second time. Your parent's attended our wedding. We continued to stay in touch over the years after she retired. My late husband Earl and I would visit them for the last time at St. Anne's home. We continued to send Christmas Cards to each other over all of those 40 years and occasionally talk on the phone. Earl would always say how he loved Gloria's laugh. Gloria was truely a great friend and I will treasure my memories of all of our time together.

Kelly (Bouder) Spece
September 26, 2021
Dear Jessica and family,
Sincere condolences on your mother's passing.
Fondly
Mary Lynn
Visitation

Friday, October 01, 2021
10:30 AM - 11:30 AM
St. Leo the Great Catholic Church
2427 Marietta Ave
Lancaster, Pennsylvania 17601

Map and Directions

Services

Friday, October 01, 2021
11:30 AM
St. Leo the Great Catholic Church
2427 Marietta Ave
Lancaster, Pennsylvania 176031

Map and Directions