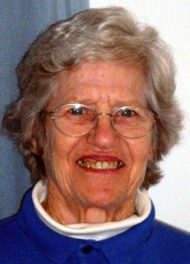 Geraldine Roberta Mershon, 84
May 13, 2018
Geraldine, 'Jeri' Mershon went to be with her Lord and Savior on May 13 at Conestoga View Nursing and Rehabilitation in Lancaster, PA after a long battle with dementia. She was well known for her passion for Christ and was an enthusiastic ambassador for Him throughout her life. She also loved sports and fitness- both as a participant and a fan/ observer. Hers was a life of ministry and pouring into others, including mentoring and teaching many younger women along the way. She had no children of her own, but enjoyed her students, nieces and nephews and they loved her too! She delighted in worshipping God, and was a great woman of prayer.
Born February 2, 1934 near Hickernell, Spring Township, Crawford County, PA, she was the daughter of Ronald Francis and Georgia Stanford Mershon. She was married briefly late in life to Paul M. Giebelman of Sun City, California.
She graduated in 1951 from Conneautville High School and from Slippery Rock State College in 1955 with a major in health education. In 1958 she earned a MA in Bible Education from Columbia Bible College, Columbia, SC. From 1958-1961 she was involved in ministry and further education in various locations in South Carolina, North Carolina, Michigan and Oklahoma. In 1961, she returned to NW Pennsylvania to work at the Sarah A. Reed Children's Home in Erie, PA, following which she taught health and physical education at Harborcreek High School for two years.
In the decade from 1965-1975 she taught the same subjects at Beaver Area Junior High School and took course work in learning disabilities through the Penn State Extension program in Beaver, PA.
During a sabbatical leave in 1975, she pursued further graduate work at the University of North Carolina, Greensboro. In 1976, she moved to Simi Valley, California, to become co-owner of Kay's Vinyl Clinic which specialized in repair and replacing vinyl in cars, restaurants and other businesses. In 1982, the business transitioned to Jeri's Vinyl Care and she continued similar services throughout the great Los Angeles area until she sold the business and retired to Pennsylvania in 2002.
During her career in California, she continued to pursue her passion for Jesus Christ through an affiliation with the International Church of the Foursquare Gospel through which she earned her certification in clinical pastoral education and served as a chaplain at the Veterans Administration Medical Center in Long Beach, CA. She moved to Adelanto on the edge of the Mojave Desert until leaving California. On her return to Pennsylvania in 2002, she resided in Meadville for a couple of years before moving to the home of her older brother Millard and his wife Joyce near Bel Air, MD. When Millard and Joyce moved to Lititz, PA in 2007, Jeri accompanied them and lived there until moving to Conestoga View.
She is survived by brother Homer and wife Clemence of Conneautville, PA, brother John and wife Judy , of Pittsburgh, PA, sister-in-law Joyce of Lititz, PA as well as nieces and nephews- David of Havre de Grace, MD, Charles of Lititz, PA, Eileen of Lititz, PA, Sherie of Pittsburgh, PA, Grant of Milton, MA, Andre of Takoma Park, MD, and Claire-Helene of Seattle, WA, as well as grand- nieces and grand- nephews Matthew and Brian of Havre de Grace, MD, Ruth of Lititz, PA, Peter of Carlisle, PA, Aislynn and Brynne of Milton, MA, Alexander and Vivienne of Tacoma Park, MD and great grand niece and nephew Matthew Jr and Emilee of Havre de Grace, MD.
She was preceded in death by her parents, sister Helen and brother Millard.
A memorial service will be held on June 30, 2018 at 3pm at the Charles F. Snyder Jr. Funeral Home & Crematory, Lititz, with visitation from 2-3PM in advance of the service. Interment occurred near her brother Millard at the Witness Park Cemetery, Lititz, PA on May 17. Memorial contributions can be made to Church on the Way, 14300 Sherman Way, Van Nuys, CA 91405.
Leave a condolence on this Memorial Page
Condolences to the Family
June 22, 2018
Dear Family, I shall always miss Jeri – always. She was my first Bible teacher & became a mentor & dear friend. I'm so sorry I cannot be there. Joan Casagrande, Fillmore, CA.
June 20, 2018
Condolences to the Jeri Merchon family:
This tribute is to Jeri Mershon who became the physical education teacher at Harbor Creek HS from 1963-65. She was instrumental in bringing girls competitive sports to Erie County, Pennsylvania nearly a decade prior to Title IX. Also, in 1963 the Division of Girls and Women's Sports (DGWS) was formed as the governing body and rules maker. Jeri, along with her sister, Helen Mershon, who served in the same position at Northwestern HS, instituted an intensive Girls' Athletic (GAA) program which provided high school girls an opportunity to play competitive sports with other Erie County High Schools. While many of the County schools participated, in the City the Catholic girls' schools who were also on the schedule, Villa, Mercyhurst, and St Benedicts.
Interscholastic competition was played in soccer, basketball, volleyball, and softball, in addition to the annual volleyball tournament and invitational track and field meet. Trophies were awarded.
Many of Miss Mershon's contributed to the mentoring of many female student athletes, some who went on to be physical educators, teachers, coaches and mentors. The prmeier athlete at Harbor Creek in those years was Judy Mitchell (Mrs Rich Meister)'65 who played professionally for several years on tour with the LPGA.
While most of the teams' records were never printed in the Sports Sections of the Erie newspapers, these student athletes and their coaches were pioneers of the modern era of girls competitive sports. Let us not forget to appreciate those who came before us, for we have walked in their footsteps and our road is easier because of them.
Elaine Wagner Ruggiero'65
ruggiero.elaine@gmail.com
Visitation

Saturday, June 30, 2018
2:00 PM - 3:00 PM
Charles F. Snyder Funeral Home & Crematory
3110 Lititz Pike
Lititz, PA 17543

Map and Directions

Services

Saturday, June 30, 2018
3:00 PM
Charles F. Snyder Funeral Home & Crematory
3110 Lititz Pike
Lititz, PA 17543

Map and Directions