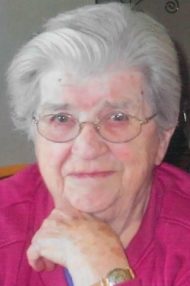 Esther Diem, 88
December 22, 2018
Esther Diem, 88, of Narvon, passed away on Saturday, December 22, at Lancaster General Hospital. She was the wife of the late Marvin Diem, Jr. with whom she shared over 57 years of marriage. Born in Lancaster, PA she was the daughter of the late Mary (Brown) and Leroy Hanna.
Esther was known for her holiday picnics. She loved baking and playing cards. She enjoyed gambling, but most of all she loved to spend time with her family.
Surviving are her children: Kathryn wife of James McGinnis of Narvon, Doris Boley of Ephrata, Patsy wife of Roy Souden of Narvon, Nancy wife of Dale Bower of Narvon, Mary wife of George Rivera of Gap, Janet Hollenbaugh of Gap; sons, Robert and his wife Mary Lou of Narvon, Richard of Narvon, Donald and his wife Cathy of Honey Brook, Edward and his wife Faye of Christiana, Ronald and his wife Jackie of New Holland.
She is also survived by a host of grandchildren, numerous great grandchildren, and several great great grandchildren.
She was preceded in death by sons, Eugene and Joseph and daughter, Judy; siblings: Francis Hanna, Charles Hanna, James Hanna, William Hanna, Emmett Hanna, Dorothy Hults, Earl Hanna and Frank Hanna; one grandchild and 1 great-grandchild.
Services are at the convenience of the family. Memorial contributions in Esther's memory may be made to the American Heart Association, 610 Community Way, Lancaster, PA 17603.
Leave a condolence on this Memorial Page
Condolences to the Family
January 02, 2019
Mary, Kathryn, Doris i'm so sorry to see your mom passed away. She and your dad were great to work with. I forgot she was sister of Shorty. take care
December 27, 2018
I am one of the grandkids. I remember the picnics that grandma had twice a year. It was a good time for the whole family to catch up with each other. Grandma and Grandpa are going to be together now in heaven. Grandma's a very loving person to her family. I am sorry for the family to have lost her this close to the holidays. She's going to be missed a lot.
December 27, 2018
My deepest sympathies to the family. Esther tell Judy and Butch we miss them and love them.
December 27, 2018
So sorry for your loss, I heard only beauitful things about your Mom. Prayers for you all during this difficult time. Sending Love and hugs