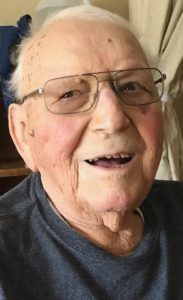 Ernest H. Aungst, 90
December 30, 2018
Ernest H. Aungst, 90, of Lititz, PA passed away Sunday, December 30, 2018 surrounded by his loving family. Born in Pinegrove, PA he was the son of the late Nora (Sattizahn) and James Aungst.
He was the loving husband to the late Mary (Fox) Aungst for over 64 years.
Ernie retired from Bethlehem Steel after 30 years. After his retirement he worked at Ephrata National Bank for over 15 years. In his free time he enjoyed hunting, was a talented woodworker and was known for his hardworking ethic. Most of all, Ernie loved to spend time with his family, especially his granddaughters.
Ernie is survived by his daughters: Kim, wife of Michael Gehman of Lititz, June Aungst of Ephrata; two grandchildren, Danielle Gehman and Kristy, wife of Max Styer and one great-grandson on the way.
He was preceded in death by a son, Dale Schnoke, and 5 siblings: Williard, Glenn, Pauline, Violet and Jean.
A Celebration of Life service will be held from 1:30PM to 4:30PM, on Sunday, January 20, 2019 at Kimberly and Michael's home, 190 Dead End Road, Lititz, PA 17543.
Contributions in Ernie's ¬memory may be made to the Shriners Hospital for Children, 3551 N. Broad St., Philadelphia, PA 19140 or the American Heart Association, 610 Community Way, Lancaster, PA 17603.
Leave a condolence on this Memorial Page
Condolences to the Family
January 18, 2019
Our thoughts and prayers are with your family.
January 15, 2019
The hole that you will feel in your hearts and lives will never be filled. You will always have your memories and remembrances to keep you going each day. Those memories are the legacy that both your mom and your dad have left you with. What a testatment for the girls to carry close to them in the coming years. My thoughts and prayers are with you all.
January 15, 2019
Deepest sympathy to June, Kim(Mike and Family) on the passing of your Father. We have so many memories of the times our families spend together. You will be in our thoughts and prayers in the days ahead. He will be missed by all! Clete and Barb Bucher and Family
January 11, 2019
Thoughts and prayers to the whole family. It's difficult loosing a family member you love, but now he is watching down over everyone and with his wife
❤️💙🙏🏻💜💙
January 11, 2019
So sorry to hear of your loss. I remember very plainly working with him at the bank. We had so much fun. He will be missed. May God give you the comfort and strength you need in the days ahead. Both of you girls have my deepest sympathy. Love you both, Beverly Miller
January 04, 2019
To the family and friends of Mr. Earnest Augnst I am sorry to hear about your loss. I know this is a tough time for you and so may the God of comfort help you through (Isaiah 25:8).
Services

Sunday, January 20, 2019
1:30 PM - 4:30 PM
the home of Kimberly & Michael Gehman
190 Dead End Road
Lititz, PA

Map and Directions