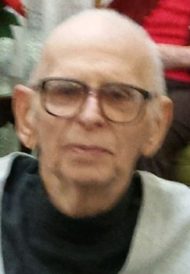 Elmer Richard "Jack" Arment, Sr., 91
May 28, 2017
Elmer Richard "Jack" Arment, Sr., 91, of Landisville, passed away at Oak Leaf Manor on Sunday, May 28, 2017. He was born in Lancaster, PA to the late Norma (Sigman) and Elmer Arment. He was married to the late June A. (McSherry) Arment.
Jack worked as a clerk for the US Postal Service. He was a veteran of the US Navy from 1944- 1946. He will be remembered for his sense of humor and devotion to his family. He enjoyed bowling and golfing.
Jack is survived by his children: Linda Van Aulen (Daniel) of Lancaster; Geraldine "Gerri" Arment of Lancaster; Robert "Robby" (Donna) of Landisville; and William "Billy" Arment of Lancaster; Several Grandchildren: Raymond, Joe, Jenny, Laurie, Danielle, Barbara, Danny, Julie, Brian, Missi, Jordan, Julia, Ashley and Stephanie; and numerous nieces and nephews. Richard is preceded in death by his son, E. Richard Arment, Jr. and daughter, Brenda Burkholder and 2 sisters, Arlene and Geraldine.
The family would like to send a special thank you to Oak Leaf Manor and Grane Hospice for their care.
Burial will take place at Riverview Burial Park at the convenience of the family. Contributions in memory of Jack can be made to the Disabled American Veterans, 4219 Trindle Rd, Camp Hill, PA 17011.
Leave a condolence on this Memorial Page
Condolences to the Family
June 01, 2017
So sorry to hear about your Dad. I have fond memories when Uncle Jack let us tag along when he took you all out on his boat and Christmas at Billy's. Often times I wished my Dad was more like Uncle Jack. God Bless you and keep you. Linda, Gerri, Robby, Billy and your familes are all in my thoughts and prayers. Love – Wanda (Wimer) Pritchett

May 31, 2017
Sorry to hear of your father's passing. Condolences from Joanne & Myself. AKA Monty.

May 31, 2017
Rest in Peace, Uncle Jack. My love and condolences to the Arment family. I have great memories of Uncle Jack and all my cousins. As a Navy man in WWII like my Dad, and Uncle Jim, I am thankful for his service. He was such a kind man with a dry sense of humor that would make me laugh. I will miss his smile from days gone by. Much love, Judy
May 31, 2017
Sorry about ur dad he was a great person.
Dick W.