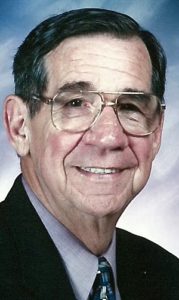 Donald Ames MacMurray, Jr., 84
November 06, 2017
Donald Ames MacMurray, Jr., 84, of Lancaster and formerly of Coatesville, Oreland and Flourtown, passed away on Monday, November 6, 2017.
He was the husband of Carol C. Jorth MacMurray, with whom he would have shared 27 years of marriage on November 16th. He was the husband of the late Joyce Bavier MacMurray, who passed away in 1989. Born in Flourtown, he was the son of the late Donald A. Sr., and Edith Kimble MacMurray.
A strong proponent of education, Donald taught physical education and served as a guidance counselor for 41 years at Norristown Area High School. He was a graduate of West Chester State College and earned a Masters in Counseling from Temple University. He served several terms on the Upper Dublin school board. He was an advocate for the Montgomery County Vocational School, a dedicated Sunday school and confirmation teacher, a devoted Philadelphia sports fan, and a respected football and basketball coach.
Donald was the manager of Flourtown Swim Club for 28 years and a volunteer with the Flourtown Fire Company for 63 years. He was a member of the Lutheran Church of the Good Shepherd in Coatesville and the former Zion Lutheran Church of Flourtown.
In addition to his wife, he is survived by his children: Gwyn married to Dennis Atkinson of Lancaster, Geoffrey married to Dana MacMurray of WA, and Gretchen married to Jonathan MacKenzie of Wayne; his 12 grandchildren: Nicole, Scott, Hillary, Denny, Bradley, Lydia, Edith, Beatrice, Caelyn, Maddie, Gabbie, and Isabelle; his stepchildren: Kimberly married to Timothy Kane of CO and Christopher married to Pariss Petersen of RI; his stepgrandchildren: Tyler, Elizabeth, Trystan, Matthew and Meya; and by his sister, Mary Ellen Greer. He was preceded in death by his daughter, Gail Beegle.
Friends will be received at the Lutheran Church of the Good Shepherd, 107 S. 17th Ave., Coatesville, PA 19320 on Monday, November 13, 2017 from 10-11AM, with the Memorial Service to follow at 11AM. In lieu of flowers, please make contributions in Donald's memory to the Sandy Rollman Ovarian Cancer Foundation, 2010 West Chester Pike, Suite 300, Havertown, PA 19083 or to Lutheran Church of the Good Shepherd at the above address.
Leave a condolence on this Memorial Page
Condolences to the Family
November 12, 2017
Dear MacMurray Family,
My deepest and most sincere sympathies to you all at this very sad time. Don was a decent and patient man and my first boss. Yes, I was one the many, many young people, I am sure, that he guided through their first work experience at Flourtown Swim Club. He was tough and fair, but always allowed us to have a little fun. I am certain I am a better employee and manager because of his tutelage. My years at Flourtown are an integral part of my youth and I remember them and Don and his family very fondly. God bless you all. Tim Cush
November 11, 2017
Dear Gwyn, Geoff and Gretchen,
I am sending my sincere sympathy on the passing of your dad. I knew him as "Mac" when he was married to your mom. He was always a warm and welcoming person and I will forever have fond memories of him. My love and prayers to out to you and your families. Aunt Judy (Armstrong)
November 11, 2017
It is our prayer that God will be with Carol and the whole MacMurray/Petersen family as you grieve Don's loss. May he rest in peace and may each of you feel God's presence and Peace through the love and caring of friends and family.
Elaine and Dick Bell
November 10, 2017
Inspired by his patience and easy-to-laugh demeanor as a member and employee at Flortwon Swim Club, I continue to enjoy a lifetime career in public education. Mr. MacMurray guided me through a fun and sometimes demanding first job as a lifeguard, desk clerk and "grunge" ( yes, cleaning the locker rooms with the dry vac). I will forever treasure the love and care of the MacMurray family. Find rest and peace.
November 10, 2017
Herb and I would like to send our heartfelt sympathy and love to Carol and Don's children and stepchildren. We have many fun memories!!!
Herb and Carolyn
Visitation

Monday, November 13, 2017
10:00 AM - 11:00 AM
Lutheran Church of the Good Shepherd
107 S. 17th Ave.
Coatesville, PA

Map and Directions

Services

Monday, November 13, 2017
11:00 AM
Lutheran Church of the Good Shepherd
107 S. 17th Ave.
Coatesville, PA

Map and Directions