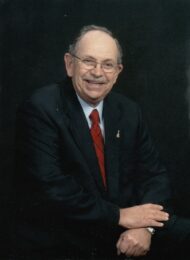 David H. Miller, 82
January 01, 2022
David H. Miller, 82, of Lancaster, passed away on Saturday, January 1, 2022 at home surrounded by his loving family. Born in Lancaster, PA he was the son of the late Joan M. (Hoenninger) and Samuel W. Miller. He was the beloved husband of Virginia (Potts) Miller with whom he shared over 50 years of marriage.
David was an active member of St. Anne's Catholic Church. He served as an Usher, Eucharistic Minister, Cantor and Liturgical Guitarist. He was a member of the RCIA, Brown Bag Lunch Program, Adult Choir and the Liturgy Committee. David graduated from Lancaster Catholic High School in 1959. He was a member of the Boy Scouts of America reaching the rank of Eagle Scout and received the Explorer Silver Award. He was a proud Veteran of the US Air Force from 1959-1963 where he served as a Teletype Installation and Repair Airman First Class. He was stationed in Texas and served tours in Iceland and the Philippines. Prior to retirement, David was a Systems Technician for Verizon, formerly Bell Telephone/Bell Atlantic Telephone Company for over 30 years.
In addition to his wife, he is survived by his children: Matthew W. Miller, partner of Raymond L. Amar of New York, NY and Katherine J. Bryan wife of Gregory of Round Hill, VA; his grandchildren: Elanor "Ellie", Barend "Bear" and River Bryan; his siblings: Samuel W. Miller, Jr. husband of Kathy of Honey Brook and Timothy M. Miller companion of Deb Tomlinson of Lancaster as well as several nieces and nephews.
A Mass of Christian Burial will be held at 11AM on Tuesday, January 11, 2022 at St. Anne's Catholic Church, 929 N. Duke Street, Lancaster, PA 17602. Family and friends will be received from 10AM until the time of service. Inurnment will follow at St. Joseph New Catholic Cemetery. In lieu of flowers, memorial contributions may be made to the Brown Bag Lunch Program c/o St. Anne's Catholic Church, address above.
Leave a condolence on this Memorial Page
Condolences to the Family
January 16, 2022
Dear Ginny and Family,
I am so sorry for your loss. There is now an enormous hole in the world. I don't think I ever encoutered Dave when he wasn't smiling, when he didn't have a positive word to share. I have so many Christmas night memories of you and Dave at Uncle Frank's Chocolate Factory singing around the piano. Dave, thank you for all of those smiles. Love to all of you. ~~~ Mary Ruof
January 12, 2022
Oh Ginny,,all of you. We are so sorry sandi dubble <3
January 10, 2022
Ginny,
I am so sorry to hear of Dave's passing. I wanted to come to the funeral but unfortunatly I was not able to attend. You and your family are in my thoughts and prayers as you go through this difficult time in your life. Once I read a saying "Don't shed a tear for me for I am not gone I am just away until we are togeather again" I know that Dave will be waiting for that day to come to be with you again. God Bless you and your family!
Kathy Risko
January 10, 2022
Ginny and Family, I am so sorry for your loss. Whenever I saw you and Dave as a couple, I knew what a loving and special marriage you were blessed with. It showed! You will miss him immensely. My deepest condolences.

January 09, 2022
Dave and I went to Lancaster catholic. We were into he choir at st Anne's Church.n he had a fantastic sense of humor. I taught both of his children at st Anne school.
Peace abd all good to the Miller family.
January 09, 2022
Katy and family, We were sorry to hear about your Dad's passing. As our mother passed away this year as well, we know what you are going through. It gives us solice to know that there is no more suffering and there is peace at last. Our thoughts and prayers are with you. Becki and Alan Payner and Fred Verny
January 06, 2022
I worked with Dave for many years. A great guy with a wonderful dry wit that always made me smile and laugh out loud. One of the best stories was Dave and I were replacing a wire across a busy road. Dave was on the pole and I was stopping traffic. After we got the wire replaced Dave and I were standing along the road and a car slammed on the breaks and pulled off the road. The car had 3 kids and grandma in the back seat and a wife in the front seat, A short man jumped out and demanded to know where are these A-mish people are at. Without missing a beat Dave said, 'you just missed them, they went to New York to watch the people work'. I still laugh to this day about this. Dave will be missed.
January 05, 2022
Ginny, I was so sorry to read Dave's obituary in today's paper. Please accept my deepest & most sincere condolences on your loss. I will never forget Dave's ready smile & great conversations with him. I know he has left you & your family with lots if wonderful memories. Peace & love to you as you grieve your loss.
Barbara
January 05, 2022
Dave was one of the most special people I have ever met in my life. God sent a gift to me, called the Millers. I am forever blessed to know them.
January 05, 2022
Ginny, Matt and Katie,
Sending our deepest condolences and prayers on the passing of Dave! So many fond memories from Ross St. The Styer Family.
January 05, 2022
I am sorry for your loss. Dave was a fellow I was always happy to see, one of my favorites.
January 05, 2022
Dear Ginny and Family,
My thoughts and prayers are with you during this difficult time. I have many wonderful memories of singing with Dave (and you too, Ginny), at St. Anne's. He always made me smile and laugh, especially when he called me Jilly. I can just hear his laughter. Dave gave so generously of his time and talents. He will be greatly missed. I can picture Dave in Heaven strumming and singing. God Bless you and your family. Jill Ferretti
January 05, 2022
Dave was a wonderful man and I'm so happy that you both were a part of my life. His laugh will always stay with me. Heaven got another angel for their choir! Rest in peace dear Dave.
Love, Val


January 05, 2022
Ginny my thoughts and prayers for you and your family at this time! Deb
January 05, 2022
Ginny, my prayers go out to you and your family. I'm so very sorry.
Menica
Visitation

Tuesday, January 11, 2022
10:00 AM - 11:00 AM
St. Anne's Catholic Church
929 N. Duke St.
Lancaster, PA 17602

Map and Directions

Services

Tuesday, January 11, 2022
11:00 AM
St. Anne's Catholic Church
929 N. Duke Street
Lancaster, PA 17602

Map and Directions