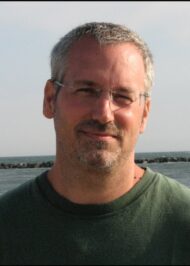 Curtis Morris, 57
November 16, 2021
Curt Morris, 57, went home to be with his Lord and Savior, Jesus Christ on Nov. 16th, 2021. We rejoice in knowing that he is no longer suffering from Alzheimer's disease.
Born in Lima, Ohio, Curt was the son of Melvin and Kathleen (Fissel) Morris, the loving husband of Sandy (Hendricks) Morris of Lititz, PA, and an amazing dad to Tyler Morris (Alana) and Madison Morris. He is survived by a sister Laura Morris Cunningham; brothers Lloyd Morris, Nathan Morris (Linda), and Kevin Morris; as well as numerous nieces and nephews. Curt is also survived by his loving in-laws, Len and Nancy Hendricks; and his faithful friends. He was preceded in death by his brother, Cole Morris.
Curt received his bachelor's degree from Messiah College, and upon graduation, immediately began his teaching career. He first taught social studies at York County Area Vocational-Technical School (York Vo-Tech), then moved on to Southwestern High School, and concluded his career at Warwick High School in his hometown of Lititz. In addition to loving his time in the classroom, Curt also enjoyed serving as a coach for high school track, football, and girls' basketball over the years; as well as for many youth sports' teams.
Passionate about playing drums as part of the worship team, Curt attended Lancaster Evangelical Free Church and always said it was an honor to play music and lead people in praising and worshipping Jesus. He also played drums in numerous Christian bands over the years and even had the pleasure of playing at the Creation Festival one year. Curt also enjoyed being outdoors, specifically skiing and hiking in the snow. He especially loved the High Peaks Region of the Adirondacks and took many trips there, enjoying his time in nature. Before his illness, Curt was working towards hiking all forty-six High Peaks. Finally, if you knew Curt, you knew he loved the Philadelphia Eagles and was legendary for bantering with students, staff, and friends about his beloved team. Curt will continue to be remembered for his engaging sense of humor and the fun-loving nicknames he gave to everyone.
The family would like to thank the compassionate staff at Magnolias of Lancaster and United Zion Retirement Community for the care they gave Curt over the years.
The family also thanks the Lititz community and Warwick School District employees for their endless support, love, and financial contributions for Curt's care over the last 11 years.
There will be a private graveside service held at the convenience of the family, There are plans in place for a Community Life Celebration event for Curt in early summer 2022 with details to follow.
Contributions may be sent in Curt's memory to Lancaster Evangelical Free Church with a note designating the Servants' Fund, 419 Pierson Road, Lititz, PA 17543.
Leave a condolence on this Memorial Page
Condolences to the Family
November 24, 2021
Sandy, Tyler, and Madi,
Your family has walked an incredibly difficult journey, and you have all demonstrated such patience, grace, and faith in every step. My heart is with all of you as you navigate these next steps, the mingled relief yet the space that Curt's lack of physical presence leaves. May you continue to feel the presence, peace, and love of God in every moment. My heart and prayers are with all of you!! Love, Sharon Wilson (and family)
November 22, 2021
I have so many great memories of drummer Kurt as we played together in "The Following" regionally at youth rallies and retreats, the Creation '95 Festival and we even had 3 songs played often on WJTL. I will always picture him in his white muscle shirt playing with such great focus, intensity and love. He had a real heart for serving and changing lives through his teaching as well. He was very passionate about all that he did and will be sorely missed.
Donald J Grabowski
November 21, 2021
The blessed freedom of release from our bodies into the presence of Christ is something to celebrate for those who follow Jesus. Praise God for Curt's testimony of faith in Jesus! "Death is swallowed up in victory. O death, where is your victory? O death where is your sting?" (1 Corinthians 15:54b-55) Curt is celebrating his victory through the shed blood of his Savior. Lifting the family up in prayer as you remember the life of a faithful man.
Ruth Winne
November 21, 2021
So sorry for your loss!
November 21, 2021
Oh Sandy,
So sorry to hear of Curt's passing. Please feel free to reach out to me at any time for support or just to talk. You were very supportive of my recent loss. Thank You.

Peter Sahd introduced Kurt to our small prayer group many years ago. I have prayed for Curt, you and your family for years. My prayers will continue in this difficult time of adjustment. Stay positive. Curt's love and memories will live on forever in your heart.

Ed Ulicny
November 20, 2021
Sam, We were sorry to hear of Curt's passing but thankful to know that he is with the Lord & back to being the Curt we all knew & loved. I thoroughly enjoyed spending time with Curt, whether it was going to Eagles games, driving to Cincinnati to watch the Reds play the Phillies or just visiting with both you & Curt for dinner & playing cards. He was an absolute wonderful person. This world is not a better place without him. He will be missed. We will be praying for you & your kids as the 3 of you move forward. Brian & Robin Hickey
November 20, 2021
It was a pleasure to have Curt instruct my children in school. They had wonderful memories of him. It was an honor to serve Curt and his family as a caregiver during his time at UZ. His sense of humor was present even when his words were not. His smile was infectious and his laugh ever present. May the family find peace in their loss as he is now free from Alzheimer's.
November 20, 2021
Sandy, Tyler and Madison,
So very sorry for the loss of your husband and father. He was a great teacher and mentor to so many as well as a wonderful husband and father. His pain is now gone. Remember him with joy, laughter and love; that is the way he would want you to remember him.
November 20, 2021
Curt was a fantastic man in so many ways. Prayers and condolences to the many impacted by Curt's passing to the pearly gates
November 19, 2021
Mr. Morris, Tyler and Madi~ I am very sorry for loss of your husband and dad. Mr. Morris was absolutely the best teacher hands down. He helped through a very rough patch in my life. Always a support, always funny and always so caring. My prayers and sympathy are with you all during this difficult time. May he rest in our Lord's arms pain free. And we know we will one day see him again. Mr. Morris sing and dance and rejoice with our savior. You will forever be remembered and missed a lot.
Jody Hilton (Brendlinger)
Mr. Morris's name for me was Miss Brendlinger!
Many Prayers!
November 19, 2021
My condolences to Sandy and Curt's family. I came to know Curt when he taught at what was then York County Vo-Tech. I was the department chair of the Social Studies Department and Curt was a valued member of the department. We became good friends as we rode back and forth to work for awhile. He was well liked by both the faculty, staff, and the students. He will be missed!
Tom Hoffman
November 19, 2021
Sandy, Tyler & Madison,
I really enjoyed getting to know Curt during the travel baseball seasons when Tyler & Zac played on the same team! I remember him always being there with his camera capturing priceless moments of the team! I also enjoyed talking about our love of music during our time waiting for practices to end. My thoughts & prayers go out to you, your family & everyone who Curt impacted during his time here on earth! He will be deeply missed. I am also glad that his suffering has come to an end and he is now with our Lord & Savior, Jesus Christ!
Love & Peace be with you all!
Pat Burke
November 19, 2021
OUR DEEPEST SYMPATHY TO THE MORRIS FAMILY FOR THE LOSS OF CURT. OUR PRAYERS ARE WITH YOU ALWAYS!
November 19, 2021
Curt was with us in spirit at the Super Bowl parade in 2018; we finally finished the "quest for redemption" started so long ago when the Bird were still wearing kelly green. Thank you for your sense of humor and friendship over many, many years. You will never be forgotten.
November 19, 2021
My condolences to Sandy and family. Curt was a great colleague. I always appreciated his sense of humor and gentleness. Prayers lifted for all.
November 18, 2021
So sorry to hear this ….. he was a great guy …. funny easy to get along with ….. he will be missed….. I went to Warwick high School … I saw he a lot ….. sending prayers to the family Sandy and Tyler and Madi ….. God will take care of him …..
November 18, 2021
I grew up with Curt. So many great memories of sleep overs and kid shenanigans. He has always been a kind and gentle human. Rest easy now my friend. Praying for his family 🙏🙏🙏
November 18, 2021
He was a great person to be around when he came into the classroom to see Mrs Morris he will be loved and missed very much
November 18, 2021
Curt was a high school classmate of mine and a GREAT guy, adored by MANY! He will be missed! My condolences to Sandy and his children. LOVE, HUGS and Prayers go to all of you! ~ Christal Etzkorn (Spencerville High School class of '82)