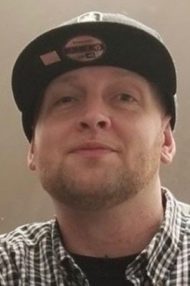 Cory A. Ruder, 33
April 03, 2019
Cory A. Ruder, 33, of Lancaster passed away unexpectedly on Wednesday, April 3, 2019. Born in McKeesport, PA he was the son of Wendell L. Ruder fiancé of Sherri J. Foster-Hohman and Judy A. (Webber) Ruder both of Lancaster.
He was a graduate of McCaskey High School.
Cory was a sports enthusiast and enjoyed watching most Pittsburgh sports teams. He was a devoted father who loved his children and his family.
In addition to his parents, he is survived by his children, Lainey and Teaghan Ruder both of Lancaster; brother, Kyle L. Ruder husband of Kelley M., of Lancaster; maternal grandmother, Dorothy B. Webber of Pottstown, PA and his nieces, nephews and extended family. He was preceded in death by his paternal grandparents, George and Patricia Ruder and his uncle, Glenn Webber and aunt, Mora Kenders.
A Celebration of Cory's Life will be held at 7PM on Thursday, April 11, 2019 at the Charles F. Snyder Funeral Home & Crematory, 414 E. King St, Lancaster, PA 17602. Interment will be private. Family and friends will be received from 6-7PM at the funeral home on Thursday. In lieu of flowers, contributions in Cory's memory may be made to Addiction Recovery Systems of Lancaster, 2192 Embassy Dr, Lancaster, PA 17603.
Leave a condolence on this Memorial Page
Condolences to the Family
May 21, 2019
Rip Cory . Will for sure miss him . I meet core at new direction in Johnstown pa . He was one of my roommates I had when I was up there . He was the best .
James Leonard
April 14, 2019
I am soo sorry to learn about your son wendell! I only met him once but i wanted to let you know my heart goes out to you💕
Sherry ocker (deb harlan's sister)
April 11, 2019
Cory was a close friend of my families! He will be missed! My kids and he did alot together back in the day! Sorry for your lose! Cindy Gallagher
April 11, 2019
I want to give my deepest condolences… I grew up with corey he was a great guy… May god bless the family and always remember he will always be with yall… God bless…
John Gallagher
April 11, 2019
I'm so sorry for your loss
Shawna Lindsay
April 11, 2019
I will never forget my times with Cory, he made me laugh like no other. He had a big heart and i will cherish my memories of him.Im so sad to hear of his passing, he was a good friend. So sorry for your families loss. Rest in peace my friend.
Rebecca Shenk
April 11, 2019
To my dear bestfriend i love you man im gonna miss you but i promise your nephew will hear all about you bro. RIP my friend
Jacque George Jr.
April 10, 2019
I am so very sorry for your loss. I had the pleasure of meeting Cory and he was a great guy. He will be missed by many. You are all in my thoughts and prayers.
Emily Carroll
April 10, 2019
I'm so sorry for your lost, my most deepest condolences go out to the family, i had the pleasure of being friends with Cory and he was an awesome person, he will be missed. May you R.I.P. Cory. Gone but you won't be forgotten.
April 10, 2019
Dear Wendell and family,
Our hearts are filled with sympathy and want to express to you our sorrow during this time. We wrap our Blue Band around you and share in your grief.
Lancaster County Constables Assn.
April 10, 2019
Sherri , Wendell , family and friends. So very sorry on your loss. Our deepest sympathy , Gail and Jennifer Smith
April 09, 2019
Im so sorry for your loss I treated him like he was my older brother i loved him so very much
Dylan Showalter
April 09, 2019
Wendell and Sherri J, we send our deepest sympathy and love and just the couple times we saw Cory we so enjoy being with him. Wish we could be with you and the family and so we pray for peace and comfort for you all. Gods arms will bring you strength.


Bill and Caroline Foster
April 09, 2019
He was a fine young man and good friend to our son years ago. He was always welcome in our home.
We are very sorry for your loss.
Nancy & Jay Bowers
April 09, 2019
I'm sorry for your loss. I can understand the pain the family must be in as you start to face this new reality. Let me tell you that you are NOT alone! I lost my brother December 2017 to addiction. I pray that you find peace and comfort during this time.
Chelsey
April 09, 2019
I am very truly sorry for the Loss of Cory. May He Rest In Peace and Soar with the Other Angels. God Bless You All In Your Time of Sorrow.
Sincerely,
Carol O'Donnell
Visitation

Thursday, April 11, 2019
6:00 PM - 7:00 PM
Charles F. Snyder Funeral Home & Crematory
414 East King Street
Lancaster, PA 17602

Map and Directions

Services

Thursday, April 11, 2019
7:00 PM
Charles F. Snyder Funeral Home & Crematory
414 East King Street
Lancaster, PA 17602

Map and Directions