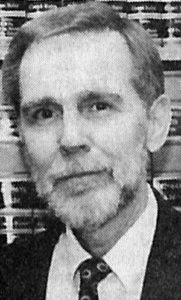 Christian E. Eaby
October 08, 2017
Christian E. Eaby, passed away on Sunday, October 8th, 2017 surrounded by his loving family. Christian grew up in Ephrata and was the son of the late David R. Eaby and the late Pearl (Root) Eaby. He is survived by his step-mother Beverly Eaby.
He graduated from Manheim Township High School and later moved to Albuquerque, New Mexico. There he earned his law degree at the University of New Mexico. He returned to Lancaster County in 1990. He had been in private practice since 1980 until his retirement this summer.
He was a loving husband, father, brother, uncle, cousin, and friend. He will be greatly missed by all. Everyone will remember him for his dry sense of humor and quick wit which will be forever missed at all the family gatherings. We will carry his memory with us through the knowledge he imparted to all.
He leaves behind his wife, Dace, and daughter, Sarah of NYC, whom he adored. In addition, are four brothers, Brad (Julie) of Dover, Delaware, Scott (Jan) of Ephrata, David Jr. of Lititz, Eric of Lancaster, one sister, April (Bradford) of Elizabethtown, nieces and nephews, Karlis (Kate), Adams (Adi), Davis (Colleen), Sheridan, Mackenzie, Garrison, Maya, Ian, Erica, Erin, Jeff (Allison), and Danny.
A Memorial Service will be held on Sunday, October 15, 2017 at 3:00PM at the Charles F. Snyder, Jr. Funeral Home & Crematory 3110 Lititz Pike. The family will receive friends from 2PM-3PM at Snyder's. In lieu of flowers, memorial contributions may be made to The American Cancer Society 314 Good Dr., Lancaster, PA 17603.
Leave a condolence on this Memorial Page
Condolences to the Family
November 18, 2017
My dearest Dace,
I just found out about Christian's passing, and I am so sorry. I think of you and your family often and would love to see you. There are so many connections between us.
October 20, 2017
Dear Dace and Sarah, So very sorry that Christian has been called to the Great Unkown. I think of you frequently. Dace, I remember spending time with you and him before Sarah was born. Sarah, I remeber how very excited he was to welcome you into the world. I have fond memories of dinners at your house in the new developement off Eubank. (It is so very built up now.) I how excited he was to move back to the family farm. Know that I am thinking of you and wishing you the best. May you find comfort in the Peace, Love and Light. Nadine Pachanian Albuquerque, NM
October 20, 2017
So sorry to hear of the passing of Christian. I remember him fixing an anniversary clock for us many years ago. Take the time to heal……it is now 16 months since Bill passed away and I still continue to miss him taking one day at a time. Your neighbor from Yost Road, Sharon Yelk
October 17, 2017
Dear Dace and Sarah,
I was deeply saddened to hear of your great loss. My heartfelt sympathy and prayers are with you both along with the extended family. Please know how much I care.
Love, Jeannine Comstock
October 15, 2017
Dear Dace and Sarah, Aunt Bev, Scott and Jan, Eric, Brad and Julie, David, April and Bradford, and all the nieces and nephews … you have our deepest sympathy for the loss of your husband, father, son, brother, and uncle. The transition into days of grieving are difficult, and I know many prayers are with you.
We'll pray the comforts of a cherished relationship and the memories of intimate joys may keep you close with your Lord as He walks you through your days of sadness. And we hope, more than anything as you share time together, that smiles, warm hugs, and laughter will fill your hearts while you recall your lives as a family and with Christian.
Our earnest love to you,
Jeff, Jenny, Charlotte and Teddy Henry
October 12, 2017
Christian worked hard. He seemed to truly enjoy being a lawyer; it was much more than a job

we visited w Christian and his wife at their house in 1993 by invite. It was a memorable experience and we appreciated his generosity He had been sick at the time, and it's sad he eventually died so young.
Anyway I am very glad he led a nice life with people that cared about him; I'm also glad they experienced him caring about them That scenario I'm sure was very fulfilling to him and made him a lucky man

If I ever get back there again I will be honored to put a small stone and flowers on his grave
Rest in peace

Matt Cohen


October 12, 2017
Dear Dace & Sarah -We're thinking of you and send our love and support at this time of transition. Seeing Christian's obit brought a flood of memories of you and the joy you brought to children, especially the nurturing you gave mine. Lots of good energy coming your way. love, beth & Aiden Cameron
October 11, 2017
Dear Family of Christian Eaby. Greetings of love, prayers and sympathy. Our family learned to know Christian thru his dedication to our local school board. From there he was our go to man helping us draw up important papers. He was so wonderfully down to earth and his caring ways ablaze! Will always remember his sharing of Sarahs joining their family which was just the best news ever! Peace, Frank and Rosie Hersh
October 11, 2017
Dace and Sarah, so sorry for the immense family loss of your father and husband. Hoping God is near sending peace to you both
sincerely
sue ziemer
October 11, 2017
Dace and Sarah~
We are so sorry to hear of Christian's passing. You are in our thoughts and prayers in this time of grieving.
Karen, Paul, Sarah and Catherine Oxholm
October 11, 2017
It has been pleasure to know and communicate with Christian Eaby since about 2000 regarding the Eby/Eaby family. He held the position of president of the Eby Family Association for many years, and according to him, mostly because no one else would take it on. He ensured there was an annual meeting of the assocation because that's what lawyers who are presidents of associations have to do. Accompanying each meeting was a covered dish luncheon and reunion of anyone who might choose to travel to the homeland of the original immigant, Theodorus Aebi and his unmatched relatives, Andrea Eby and David Davis Eby. Most people who have one of the 18 permutations of the name are descended from one of these three. Christian bought and lovely protected the original immigant, Theodorus Aebi's house in New Holland. I was priviledge to visit the home in 2000. We are all indebted to Chrisgtiand for keeping us closer together. RIP. B. Dawn Eby Quast
October 11, 2017
So sorry for your loss. Leonard "Butch" and Sue Sowers. Great grandson of Lafayette Eby the Blacksmith from Circleville Oh.
October 11, 2017
Michael Brinley It is sad to see Christian's passing. I remember him coming to family events over the years and that he was an alternately fun and serious person at times. I will miss him. He was the closest in age to me of my cousins.
October 11, 2017
My deepest condolences and heartfelt sympathies to you and your family. Christian always made me feel like family and even though we are cousins many times removed I felt the family connection, too. He will be missed.
Visitation

Sunday, October 15, 2017
2:00 PM - 3:00 PM
Charles F. Snyder Funeral Home & Crematory
3110 Lititz Pike
Lititz, PA 17543

Map and Directions

Services

Sunday, October 15, 2017
3:00 PM
Charles F. Snyder Funeral Home & Crematory
3110 Lititz Pike
Lititz, PA 17543

Map and Directions