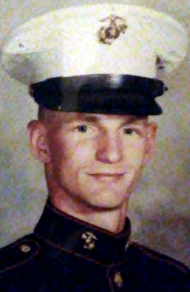 Charles S. "Charlie" Evans Jr., 72
March 09, 2019
Charles S. "Charlie" Evans Jr., 72, of Lancaster, formerly of Delaware, passed away on March 9, 2019. Born in Lancaster, he was the child of the late Charles S. Evans Sr. and Bessie L. (Charles) Evans and the beloved husband of Denise Evans.
After graduating from J.P. McCaskey High School, Charlie went on to proudly serve his country as a member of the United States Marines. He served overseas in as a Sergeant in Vietnam before returning home and becoming a member of the Army Reserves. He still remained active within veterans' organizations and was a member of the Atterbury VFW Post 3420. A lover of college sports, Charlie was the Athletic Equipment Manager for Franklin and Marshall University, West Chester University, and Weidner University. Charlie loved watching college football, especially Notre Dame. Go Irish! He also coached football for Midgets, Freshman, and Junior Varsity for Manheim Township School District for several years.
Charlie's passion in life was music. A natural talent, he was an incredible drummer and singer. He played in his own bands; Shades of Time, The Ambassadors, and the Seven Dwarfs, and played along side Ronnie Dove. He also enjoyed watching parades and listening to the Marine Corps Band. His energy was unmatched. He loved dancing, singing, joking, and being the life of the party. Everyone who met Charlie instantly loved him. A family man, Charlie cherished time with those around him. He brought laughter and love into everyone's life. The world is a little less funny without Charlie in it.
Charlie is survived by his loving wife of 26 years, Denise Evans, his sons; Charles Evans III (companion Kimmy Drotar) and Patrick Evans (wife Shannon), his step-daughters; Tamisa Jenkins (companion William Kidd), and Georgianne Hoffman (husband Jason). He is also survived by his grandchildren; Quinn Evans, Kieran Evans, Emily Stone, Megan Bass, Sarah Hoffman, Evan Hoffman, a great-grandson, Trent Paulin, siblings; Nancy Zahm, Helen Fink, and Jeffery Evans (wife Kathy), and several nieces and nephews. He is preceded in death by his parents, Charles and Bessie.
Friends are welcome to join Charlie's family in a Celebration of Life Gathering on Thursday, March 21, 2019 at 6:00pm located at the American Legion Post 56 at 109 N. Broad St. Lititz, PA 17543. Family requests that guest wear their favorite college sports apparel in memory of Charlie and his love for college sports.
Leave a condolence on this Memorial Page
Condolences to the Family
April 01, 2019
To the family of Charles Evans – It was only recently that I found out about Charlie's passing and was sorry to have missed his service. Back in the day, I hired Charlie to be the Athletic Equipment Manager at Franklin and Marshall College. As would be expected, he brought order out of chaos. He did a marvelous job and was a friend of all the athletes, men and women. It was an honor to have worked with Charlie during his time at F&M. He will be missed by his many friends.
Respectfully submitted: Dr. William Marshall
March 16, 2019
You were a great friend if you couldn't have fun with Charlie Evans you didn't know how to have fun . RIP Uncle Chucky
March 15, 2019
Dear Denise, Georgianne, Jason and all of your family and extended family,
We are so sorry to learn of Charlie's passing. Though we only met him once it was apparent that he was a great guy (as also evidenced by the wonderful tributes that have been given about him).
The obituary was beautifuuly written and it was wonderful to learn more about Charlie. We are certain that it not only captured his life and spirit, but feel that iit also evidenced the great love that he shared. Please know that you are in our thoughts.
With love, Milt and Judy Lauch
March 15, 2019
We will miss Charlie! RIP!
March 14, 2019
Our prayers are with the family. Will never forget Charlies sense of humor. Just like Uncle Buds. Love to all of you.
March 14, 2019
I'm proud to have known Charlie. Most of all to call him friend. RIP in peace
March 14, 2019
Gonna miss you so much pappy! I am a better man today for having the you in my life. Erin go bra my friend
March 14, 2019
Sorry to hear this. My condolences go out to all who knew and loved him. I Did not know Charlie well, but he always treated me with respect, vice versa. Too young to pass. May the Lord take his soul to heaven to play the drums for Angelic music.
March 14, 2019
Too soon, way too soon …. Charlie, I just placed our plans – on hold.
March 14, 2019
So sorry to hear of Charlies passing. I'm a drummer in a local band and became friends with Charlie through music. My prayers go out to Charlies family and friends. Peace be with you all.
March 14, 2019
Yo Marine, "Chaz", Charlie-our very dear friend! You were & always will be remembered & now missed terribly! I will never forget you joining me for my retirement from the Air Force (over 30 yrs ago)! We still cherrish those memories with our family & friends-telling them how hilarious you were! May you find forever comfort now in the House of Our Lord. We love you Brother & already miss you.
March 13, 2019
So sorry for your families loss. Mike and I loved Charlie and we already miss him.
March 13, 2019
Oh my goodness Denise. Wonderful tribute to Charlie. We are trying to make arrangements to be there, I would hate it if I can't come. Love you my friend!
March 13, 2019
Geo, So sorry to hear about the passing of your stepdad. May he RIP.

March 13, 2019
Just got done praying for the family. And I will continue to pray. Man.. Charlie was a great guy. He was like no other. His personality was second to none. It was impossible NOT to like this guy. I know for the family right now it has to be a difficult. And although no words can help to ease the loss they bear, I just want them to know that they are very close in every thought and prayer. Much love.

Sincerely,
Muhammad Abdur-Razzaq: Widener University Football 2014-2018.


March 13, 2019
Spent many years with Ruby. Great times watching football with family. Our sons grew up together. You could always count on Charlie to come up with a funny story or a made up magic trick. It was my pleasure to have known Charlie for over 50 years.

RIP Ruby


March 13, 2019
Charlie, you were a true and great friend. You are missed and you are loved by so many. My prayers are with you and your family. My you rest in peace. Until we meet again. Semper Fi Brother. RIP. Victor
March 13, 2019
Uncle Charlie was on in a million! Always the life of the party! My condolences to all his family.
Services

Thursday, March 21, 2019
6:00 PM
American Legion Post 56
109 N. Broad St.
Lititz, PA

Map and Directions