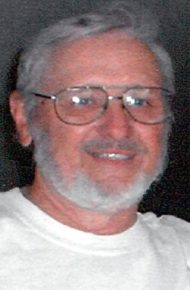 Charles H. "Skip" Westheaffer, 74
January 02, 2019
Charles H. "Skip" Westheaffer, 74, of Lancaster Twp., passed away on January 2, 2019, at Hospice & Community Care, Mount Joy. Born in Lancaster, he was the son of the late John Henry and Gladys (Scheafer) Westheaffer. Skip was the loving husband of Judith L. (Womer) Westheaffer, and together they shared 53 years of marriage. In addition to his wife, Skip is survived by his daughter, Bonnie L. Westheaffer and her husband Kirk Thoman of Lancaster.
Skip graduated from J. P. McCaskey High School with the Class of 1962. He worked as a material supervisor for the former Hamilton Watch Company, retiring from Swatch US after 40 years of service. Skip's retirement was filled with activities he shared with friends and family. An outdoorsman, he enjoyed hunting, fishing, and archery. He also enjoyed participating in the Senior Games and was an avid golfer. He was also an avid Penn State football fan. Skip was an inspiration to loved ones as he fought through significant medical challenges to remain active and even overcame major surgery to be able to volunteer with the US Women's Open golf event in Lancaster.
Family and friends are invited to attend a funeral service which will be held at 12:00 Noon on Wednesday, January 9, 2019, at the Charles F. Snyder Jr. Funeral Home & Crematory, 3110 Lititz Pike, Lititz, PA, 17543, where a viewing will take place beginning at 11:00 AM until the time of the service. In lieu of flowers, contributions in Skip's memory may be offered to Hospice & Community Care, 685 Good Drive, P O Box 4125, Lancaster, PA 17604.
Leave a condolence on this Memorial Page
Condolences to the Family
January 09, 2019
Skip & Judy & I were JP McCaskey 1962 graduates. Skip helped me with HS math problems. He participated in class reunions and class of 62 guys gatherings. He was always friendly with a positive attitude despite medical challenges. He was an enthusiastic participant and I always enjoyed his presense. My sympathy to his family. He will be missed by many. Gary Sensenich
January 09, 2019
Judy and Westheaffer and Womer families,
I would like to extend my sincere condolences to all of you. I've known Siip from the time we were both in 5th or 6th grade. We played sports together at the Y. I enjoyed having Skip as my guest at several Penn State football games at which time we would catch up with each other. Skip also attended our 62 Guys get togethers over the the past 12-15 years.I always enjoyed our time together. Skip was a fighter. He had a strong spirit. And, he never gave up even while fighhting his serious health issues. I will miss him. I know all of you will miss him too.
Tom Parker
January 09, 2019
Dear Bonnie and Judy,
So sorry to hear about Skip. Tom and Skip were classmates at McCaskey HS and Skip came to the Guys Get Togethers from time to time. I think they all enjoyed those times. I met Skip at the reunions. Our thoughts and prayers are with you and your family. Another angel has made it. Tom and Bonnie Parker
January 09, 2019
Dear Bonnie and Judy,
We were so sorry to hear of your loss. Skip was a great man and he will be missed. If you need anything, please let us know.
The Feisters and The Gasts
January 07, 2019
My Condolences To The Family. Skip was a classmate and friend of mine since 7th grade. He will be missed.
Mike Uhrich
January 06, 2019
Charlie was a great friend! I worked, played tennis, and listened to his fishing stories, when we worked together at Hamilton Watch. I am so sorry to hear of his passing. My condolences to his family. Lancaster lost a really good guy.
Mike Sipe
January 05, 2019
I'm sorry sorry for your loss Judy and Bonnie! Prayers to you all. ….Molly
Visitation

Wednesday, January 09, 2019
11:00 AM - 12:00 PM
Charles F. Snyder Funeral Home & Crematory
3110 Lititz Pike
Lititz, PA 17543

Map and Directions

Services

Wednesday, January 09, 2019
12:00 PM
Charles F. Snyder Funeral Home & Crematory
3110 Lititz Pike
Lititz, PA 17543

Map and Directions