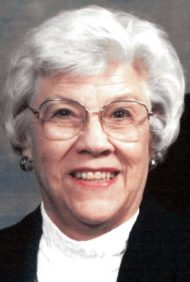 Bernice N. Hoskinson, 92
June 11, 2018
Bernice N. Hoskinson, 92, a former resident of Woodcrest Villa, passed away on Monday, June 11, 2018, at the Mennonite Home Care Campus in Lancaster. Born in Waupun, WI, she was the daughter of the late Bert and Martina (Verhey) Nyhuis, and the beloved wife of the late Walter D. Hoskinson, with whom she shared 58 years of marriage at the time of his passing in 2009.
Bernice was a loving wife, mother and grandmother who devoted much of her time to her family and home. Always an active member in the communities where she lived, she enjoyed being a scout leader and working for various programs with the Red Cross. For many years, she was a member of P.E.O. She especially enjoyed reading and crafting, and became very involved at Woodcrest Villa with the Craft Bazaars.
Bernice is survived by her daughter, Lynn Hewitt and her husband Arthur of Punta Gorda, FL, and sons, David Hoskinson and his wife Carol of Reading, and Mark Hoskinson of Harrisburg. Also surviving are three grandchildren, and four great-grandchildren. In addition to her parents and husband, she was predeceased by her brother, Harold Nyhuis.
Services will be private at the request of the family. Bernice's final resting place will be at Conestoga Memorial Park, Lancaster. Memorial contributions in Bernice's memory may be offered to the American Cancer Society, 314 Good Drive, Lancaster, PA, 17603, or to the American Heart Association, 610 Community Way, Lancaster, PA 17603.
Leave a condolence on this Memorial Page
Condolences to the Family
June 27, 2018
Bernice and I were favorite cousins! Each summer I would take the train from Milwaukee to Kankakee, IL to visit for several weeks. What a happy time that was! Harold was eager to take us on his boat on the Kankakee River. It was a treat for me to always have chocolate syrup in our milk because Bernice refused to drink her milk without it!
A special memory is the happy times we enjoyed at Fox Lake, WI when the whole Nyhuis family took two huge cottages together for several weeks. We taped Fox Lake on our backs to have a memory when we tanned!
When Walt and Bernice married I was a bridesmaid. My husband Bob and I then visited them at U of I and became good friends. We lived in Grabill, IN when they were in Marion, IN so we spent Thanksgiving with them one year. Yes, we were great friends! Good memories!

Dolores Bennett Day
Colorado Springs, CO
June 14, 2018
So glad I new her. A grand lady has left us.
She helped raise all of us! I have such fond memories of our childhood
She will be missed.
Love to the family,
Alice Bell Wiley


June 14, 2018
My condolences. She certainly lived a full life.
John Schermerhorn
June 13, 2018
My sincere condolences at the passing of your Mother. May she Rest In Peace.
Cathy Lampron
June 13, 2018
Dearest Lynn and family,
We are happy we had an opportunity to meet Bernice back a few years ago in Fl. She was a lovely woman and she will leave behind her legacy within her children, grandkids and great grandkids. We will hold you all in our prayers.
Love,
Greg, Sara, Reagan, Rowan & Grayson
June 13, 2018
Love to you Lynn, David & Mark. You had a wonderful mom. She will be missed. I loved her dearly. She was such a big part of my growing up. Inviting me for a weeks visit most every summer. If I was there on my August birthday they would request a sparkler be put in my cake slice at the restaurant. Loved it. She was always full of fun and surprises. 😀 🎉 Kathy xoxoxo
June 13, 2018
With ALL of our LOVE♥️..
We will miss Bernice. I'm very glad our children knew her, being my dad's sister.
Family is important.
God Bless you all during this journey of memories.
Dave and Ann
and family