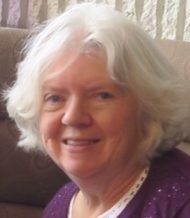 Barbara A. Kukich, 78
May 10, 2019
Barbara A. Kukich, 78, a homemaker, of E. Lampeter Twp. Lancaster, died peacefully at home surrounded by her family. She was born in Brooklyn, NY and was the daughter of the late Nelson C. and Eleanor (Tuohey) Bosanko.
She is survived by her husband Michael D. Kukich. They were married on November 8, 1975.
Barbara loved spending time with her two grandsons, dining, especially trying new restaurants, and shopping for treasures to decorate her home.
Surviving in addition to her husband, is a daughter Laura A., wife of Eric Dawson, of Blue Bell, PA, a son, Ronald Gerhardt, of Sayreville, NJ, two grandsons Samuel Dawson and Andrew Dawson. She was preceded in death by a brother William Bosanko in 2009.
Funeral Services will be on Monday, May 13, 2019 at 11AM at Charles F. Snyder, Jr. Funeral Home & Crematory 3110 Lititz Pk, Lititz, PA with Pastor Jack Peters officiating. A closed casket visitation will be at Snyder's from 9:30AM-11AM. Interment will be in Witness Park, Lititz PA.
Leave a condolence on this Memorial Page
Condolences to the Family
May 14, 2019
Dear Laura and family, We are so sorry to hear of your loss, as I'm sure your hearts are broken. Barbara was a wonderful person who was always very kind to our family. Please know that we care you are hurting and will continue lifting you up before the Lord in prayer. Thinking of you with much love, Dav & Ev Young
May 13, 2019
Dear Mike,
We were so sorry to hear of Barbara's passing. We miss you guys and Mikey in the neighborhood. Our thoughts and prayers are with you as you and your family grieve.
Love from Haverhill Road,
Jesse, Liz, Sam and Clara North
May 13, 2019
Dear Mike, Laura & Ronald: I was so saddened to read of Barbara's passing. It has been a great honor and privilege to have known her in this life, in my young adulthood years and to have our paths cross again recently. I smile when I think of our last conversation on all things deep, life, heaven and the Lord. I am grateful to have been able to tell her what a well of wisdom she was and the peaceful aura that radiated from her to all who met her. My heart breaks for your loss. No words can possibly take away the pain. I pray you feel the palpable presence of God, love and the angels embrace each of you now and every day forward. Barbara's light shines even brighter now, illuminating your path with love and light. She deeply loved each of you and was so very proud of her loved ones. Love & Peace, Rachel
May 12, 2019
Mike, we saw Barb's obituary in today's newspaper and shared the news with our Sunday School Class at Neffsville Mennonite Church. We want you to know that our thoughts and prayers are with you and your family as you mourn her loss. Ron & Nancy Pawling
May 12, 2019
Praying for you all. Barbara was a good person and loving mother. I remember how much she loved Laura and wanted the best for her. I never met Ronald but I know she loved you too. It was fun to share friends with her in Greenbrook, NJ.
Earlynne Reimer
May 12, 2019
Lots of love to all of you. So sorry to hear about Barbara's passing. Our thoughts and prayers are with Laura and the family.
Allison Schill
May 11, 2019
I was so sorry to hear of Barbara's illness when I spoke to her last and have been in prayer for her since then. We had been good friends for many years and I know her desire was to be at home with Jesus. I'm sure she is resting in peace now.
My condolences to Mike, Laura and the rest of her family. See you later Barbara.💖
Carol A. Rappaport
May 11, 2019
Dear Laura and Family,
We were so sad to hear of your Mom's passing. You are in our thoughts and prayers.
Joan & Fred Price
Visitation

Monday, May 13, 2019
9:30 AM - 11:00 AM
Charles F. Snyder Funeral Home & Crematory
3110 Lititz Pike
Lititz, PA 17543

Map and Directions

Services

Monday, May 13, 2019
11:00 AM
Charles F. Snyder Funeral Home & Crematory
3110 Lititz Pike
Lititz, PA 17543

Map and Directions