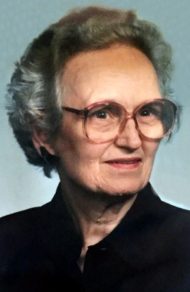 Athena Mandros
January 01, 2019
Athena Mandros passed away peacefully on New Years Day at home. She was born in the village of Vlachokerasia located in Arcadia, Greece on August 11, 1926. She was the daughter of the late Vasilios and Fotini Copetas. After living through World War II and subsequent Civil War in Greece, she immigrated to the United States in search of a better life in 1951. Athena moved to Pittsburgh where many people from her village settled. In 1957, she married her beloved husband, the late Simos Mandros, and they moved to Lancaster and started the store that would become Mandros Imported Foods. For the next 60 years, Athena was an integral part of the family business and brought her ethic of hard work and discipline.
She loved to chat with her customers and pass on her love of cooking. She would give out tips and tricks to making traditional Greek food and would show people how to work with phyllo dough using the ever present newspaper on the counter. She was also known for her bag packing acumen and would slap away any hands that tried to pack a bag not up to her standard. And let's not forget that Athena was feisty, always ready to speak her mind, and tell stories.
She is survived by her two sons, Constantine (Dino) and Vasilios (Bill) [Jan]; and her grandchildren who she adored, Athena, her namesake, and Simos (Si). She is also survived by her sister, Aphrodite Desimpris of Athens, Greece, as well as numerous nephews and nieces. She is pre-deceased by her husband, Simos, and her brothers, Nicolas Copetas of Greece and George Copetas of Pittsburgh.
A viewing will be held from 6-8 PM with a Trisagion Service at 7 PM on Thursday, January 3, 2019 at the Charles F. Snyder, Jr. Funeral Home & Crematory, 3110 Lititz Pike, Lititz, PA 17543. Viewing will continue on Friday, January 4 from 9:30-10:30 AM at Annunciation Greek Orthodox Church, 64 Hershey Ave, Lancaster, PA 17603 with a Funeral Service to begin at 10:30 AM officiated by Rev. Hector Firoglanis and Rev. Alexander Veronis. Athena will be laid to rest at Mellinger Mennonite Cemetery.
The family would like to thank Hospice, Comfort Care, and Visiting Angels who help immensely in her care comforting her in her last days and allowing her to remain at home. The family would also like to thank all the many customers who asked about her and shared their advice and personal experiences in dealing with parents with dementia over the past three years.
In lieu of flowers, should you so desire, please make either a donation to Hospice & Community Care, 685 Good Drive, Box 4125, Lancaster, PA 17604 or the Annunciation Greek Orthodox Church.
Leave a condolence on this Memorial Page
Condolences to the Family
February 24, 2019
Dino, Bill and family – My belated condolences on the loss of your mother. She was the definition of what it means to be a lady. It was always a joy to see her in the store. Lancaster lost one of its great ones.

February 11, 2019
Bill & Dino,
They don't make them any tougher. I'll really miss her commanding presence on that chair behind the counter. Earth is worse off without her but Heaven got a lot happier.
ignacio
January 11, 2019
Bill, Dino and family, I was saddened to hear about your mom. Bill, I am glad we all talked after our 40th reunion about caregiving for our parents. Bill, you were a good son to your mom and I know she really appreciated it. Take a ton of comfort from that! I have been praying for your and your family to get peace and comfort from God. It has been a long hard road for all. Your mom was such a strong woman her entire life, but now she can rest. She is made new again! Praise God! I will miss seeing her at the cash register.
God bless you all.
My most sincere condolences, Susan Wisniewski
January 08, 2019
Dear Dino and Bill,
We have such good memories of your mom at the store, reading the Sunday newspaper at the desk and packing our order perfectly! We are sorry for your loss and send our condolences to your whole family.
François and Beth Mollard
January 05, 2019
Dino, Bill and family. Your mom was a good friend to our family. She was a loyal friend and visited our mom frequently. Our thoughts and prayers are with you at this time.

The Joseph and Josephine Caterbone Family!




January 05, 2019
May her memory be eternal.
Sincerely, Joe & Melanie Gargano
January 05, 2019
I send my condolences to the Mandros family upon the passing of Athena. She was practically a one-woman "institution" at the store, and the obituary descibes her the way I remember her! She considered her work at the store to be not just a service to the public, but in many ways, a ministry. Will miss seeing her at the cash register with her paper.
January 05, 2019
Dear Bill, Dino & Family,
Your Mom always brought a smile to me – each visit to Mandros included a story and sharing of recipes. She brought back memories of my grandmothers and great aunts, while your store and the products you have been bringing to Lancaster took the pinges of homesickness away when first moving here in the mid 80's. Mrs. Mandros will always remain a part of my family's spoken memories. Our condolences to you all, Maryann
January 04, 2019
Dear Bill and Dino,
The chair behind counter may be empty but the space your mother left behind shall fill many hearts. Sorry for your loss.
Don Kocher
January 04, 2019
Dear Bill, Dino & Family,
The passing of a great woman. All of us have many lasting and fond memories of Athena. An integral part of the younger ones' upbringing. These condolences are coming all the way from Bogota, Colombia. We would have liked to express them in person.
The Karl Family (Jim, Carolyn, Adam, Ben & Lisa)
January 04, 2019
Bill & Dino,
I send to you my most sincere condolence on the passing of your mother. Whenever I had the occasion to stop in your shop I always looked forward to the little "chats" I had with your mother while checking out. It was always the most fun I had that day. Since I moved away from Lancaster, I always made it a point, when I returned, to stop in, always looking forward to my check-out talks with your mother. Take care and be well.
Bill Klein
January 04, 2019
Dear Bill, Dino and family: Condolences on the passing of your wonderful mother. we enjoyed greeting her at the register when we came to the store. There have been 4 generations of the Nobile family from Columbia who have shared your delicious delectables. Fondly, Sye Nobile family.
January 04, 2019
May peace be with the Mandros family. Athena was such a pleasant smiling fixture at the store. Although sometimes hard to understand through her thick accent, we still have her stuffed grape leaves recipe that she dictated to me(my husband, Jeff, wrote it down) tucked away in our recipe binder. We are blessed to have gotten to share your mom with you.
Jeff & Kathy Heil
January 03, 2019
Dear Bill and Dino,
I am so saddened to read of your mom's passing. Whenever I came to the store, I looked forward to chatting with her as much as to buying something delectable. She was a treasure, and I'll miss her. My condolences to you and your family. Kathy Possler

January 03, 2019
Dear Visilious, Dino, & Family: Maria & I extend to you our deepest condolences on the loss of your Mother, Athena! She was such a very special Lady, who always made our "visits" a pleasant experience! Her smile and kind words will be forever enduring!
With our most sincere feelings of sympathy, John & Maria Skabo
January 03, 2019
Dear Bill and family,
What a blessing that your mother is now at peace and although the human light has gone out she will live eternally with the same vim and vigor. Your family was most special to all of you and your devotions was important over the years. The memories will last for ever . Peace be with all of you.
January 03, 2019
To Dino and Bill,
Although my time with your mother was short, I am honored I was able to help comfort her in her final days! She is now in the presence of the Lord. Prayers for peace and blessings.
Brenda (Visiting Angels)
January 03, 2019
I always enjoyed waiting on Mrs. Mandros, when I worked at the bank, at Prince and James.
My condolences to the whole family.
January 03, 2019
Our sincerest condolences to the Mandros family for the passing of Athena. Talking to her over the many years always made me smile. From my parents and I.
January 03, 2019
We will miss your mother, she was a fixture at the store. Our deepest condolences on her passing. May your family rest easy knowing that she is with your father in the glory of God. The Klaus Family.
January 03, 2019
To DIno & Bill, and Family
Our deepest condolances & prayers to you . We have many nice memories of both of your parents & of course many good conversations with your Mom after your Dad passed. She was one sharp lady, didn't miss anyone coming in while talking together. She would ask when we bought more then provolone cheese, what are you making that 's good & would always give a helpful hint as to what will make it taste even better. She often asked about our children & our grandsons. Blessings to all of you & praying for as you all go about in the plannings of these few days . Praying the Peace of God .
January 03, 2019
Dear Dino, Bill, and your family,
I am saddened to learn of the loss of your mother and send my deepest sympathy to all of you. I have fond memories of her, as I shopped at Mandros very frequently for my ingredients to prepare the delicious recipes that you and your friends were kind enough to share with me (during your years at McCaskey H.S.).
I will keep all of you in my thoughts and prayers.
With kindest regards,
Jane Pelland
Charleston, SC
January 03, 2019
Sorry for your loss. Very sweet lady. — Jay & Judy Hilt
January 03, 2019
Oh how I loved coming to the store and speaking with Mrs. Mandros! She was a unique person whose memory will be cherished forever! I don't get to the store often, but I always hoped she would be there and, until the last few years, she always was and it made my visit very special. Lancaster is less colorful without your wonderful mother. Praying for your family.
January 03, 2019
Dino and Bill; Please accept my deepest condolences for your mother. I am honored to have met her at the store.
I share the experience of my mother being able to live out her final days at home in a loving environment. It is a blessing
May she Rest In Peace
January 03, 2019
Mrs. Mandros waited on me at her cash register for well over a half century. I loved chatting with her for a few minutes every time I visited the store.

Ken Gilgore
Visitation

Thursday, January 03, 2019
6:00 PM - 8:00 PM
Charles F. Snyder Funeral Home & Crematory
3110 Lititz Pike
Lititz, PA 17543

Map and Directions

Visitation

Friday, January 04, 2019
9:30 AM - 10:30 AM
Annunciation Greek Orthodox Church
64 Hershey Ave
Lancaster, PA

Map and Directions

Services

Friday, January 04, 2019
10:30 AM
Annunciation Greek Orthodox Church
64 Hershey Ave
Lancaster, PA

Map and Directions