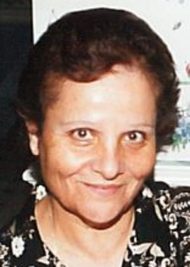 Argyro "Gina" Gerasklis, 76
May 30, 2017
Argyro "Gina" Gerasklis, 76, of Landisville, passed away at her residence, surrounded by her family, on Tuesday, May 30, 2017.
She was the wife of the late Emmanuel S. Gerasklis who passed away in 1981. Born in Zia, Kos Greece, she was the daughter of the late Dimitri Hatzidimitriou and Paraskevi Zalalas.
In 1960, she immigrated to the United States on the SS Frederica with her husband and infant daughter. She braved a tumultuous storm for a month before arriving at the shores of America. She worked very hard to assimilate to her new country; she took English lessons at McCaskey High School and quickly became a US citizen. She sponsored many relatives in her home on Plum Street and loved to cook and host her family at her home for the holidays.
Over the years, aside from being a homemaker and mother, she worked with her husband as owners of Manny's Pizza in Millersville, Tom's Diner in Lancaster, and the Old City Diner in Lancaster. She also worked at the Lancaster YMCA and at Herman's Daycare.
As a longtime member of Annunciation Greek Orthodox Church, Argyro was a member of the Philoptochos Society and the Pancoan Society.
Argyro is survived by her children:Sophia married to Paul Hatzivasilis of Mountville, Thomas E. Gerasklis of Mountville, Patricia G. married to Tasos Marinos of Landisville, and Maria E. G. married to Shawn Long of Reading; her grandchildren to whom she was affectionately called Yia Yia Ro: Argina (Hatzivasilis) Reinhold, Maria (Hatzivasilis) married to Shawn Geller, Ronald Harrison Groom (Gerasklis), Stergos Aris Marinos, Emmanuel D. Marinos, Eleni S. Marinos, and Perry A. Marinos; and by her great grandchildren Benjamin S. and Olivia S. Reinhold and one great granddaughter on the way. She is also survived by her siblings: Emmanuel S. married to Verna Dimitriou of Mountville, Desi Dimitriou-Kresge of Lancaster, Katerina Hatzikalimnios of Sydney, Australia, and Irene married to Socrates Kaplanis of Kos, Greece. She was preceded in death by her siblings, Maria Hatzivasilis and Eleni Xenikas. Argyro was also adored by her many nieces, nephews, and godchildren.
Friends will be received on Thursday, June 1, 2017 from 6-8PM, with the Trisagion Service at Annunciation Greek Orthodox Church, 64 Hershey Ave., Lancaster, PA 17603 and again on Friday, June 2, 2017 at the church from 9:30-10:30AM, with the Funeral Service to follow at 10:30AM, the Rev. Hector Firoglanis officiating. Interment in Conestoga Memorial Park. In lieu flowers, please make contributions in Argyro's memory to the Annunciation Greek Orthodox Church at the above address.
Leave a condolence on this Memorial Page
Condolences to the Family
July 17, 2017
From Katerina Hatzikalimnios her sister in Sydney Australia .
My dear sister,
I longed to hear your voice and see you again but never got the chance as God had other plans . I am pained to hear of your death and so late . I am pained to hear that you were ill and unwell.
I know I can't say goodbye because I know one day we will meet again.
May God rest your soul, always in my heart always on my mind, although divided by nations , my love for you is eternal.
To my brother and sister and my nieces and nephews, my families heartfelt and warmest condolences to your families. Eternal be her memory . She will be sorely missed x
Katerina Hatzikalimnios and Family

June 14, 2017
just saw the obit – im sorry Tommy and your whole family for the loss of your mother – sincerely Rich Lapham V remember tommy ny3
June 01, 2017
Maria, I am so sorry to hear about the loss of your mother. May God hold you and your family in his arms to help you through this sad time. My heart goes out to you. Lisa MCCoy – RPL
June 01, 2017
To Patty Marinos and all her family:
I am so sorry for your loss. May her memory be ever eternal. Your mother was such a beautiful person
May God bless you
June 01, 2017
Sofia, Patricia, Tommy, Maria and families,
We were saddened to hear of the passing of your mother. You have our deepest sympathy and are in our thoughts and prayers. May her memory be eternal.
Nancy and Pat St.Clair
May 31, 2017
With deep sympathy in the loss of a wonderful cousin. Aryro always had a warm smile when you would see her. She was a wonderful person with a beautiful heart of giving to others. May her memory be eternal
Effie Guthrie
May 31, 2017
My deepest sympathies for the loss of your beloved mother. I was greatly saddened to hear this news as she was such a kind, loving and warm soul. Maria and Patty, I wish you comfort in the midst of your pain. May her memory be eternal and everlasting.
Love
Cathy Georgallis Ballman

May 31, 2017
Pat and family..growing up I spent a ton of time at your house and your Mom always made me feel welcome. She was a kind and gentle woman and I will cherish my Greek family memories.
Love and prayers,
Sue Blakeslee Landis
May 31, 2017
Sorry to hear this news, Argie was a kind and loving person and she will be missed by her family and everyone who knew her. My condolences. Phil Kresge
May 31, 2017
I will think of Yia Yia Ro fondly for her ability to always bring a smile to my face and to remind me of my own Nonna and Avo. In fact, I was just thinking about her this weekend and how she had me rolling on the floor laughing at Maria's bridal shower. Sending love and prayers to the family at this time. All my love, Angela Hendrix
May 31, 2017
Argyro was a dear relative and a favorite of my mother. We remember her warm smile and always her warm greeting. Our sincere condolences to the Gerasklis family.
George & Judy George
May 31, 2017
May her memory be eternal lots of love, respect to my cousins and to theias grandchildren and great grand children, greetings all cousins in lancaster , despiona hatzivasilis athens greece.i will be in church sunday at monastaki ayia irini the church mom and theia argyro sponored and sent money to for the miracles of god,god bless you all in usa.the good old days of plum street and new street willnever be forgotten and hand avenue of course…………..

Visitation

Thursday, June 01, 2017
6:00 PM - 8:00 PM
Annunciation Greek Orthodox Church
64 Hershey Ave.
Lancaster, PA

Map and Directions

Visitation

Friday, June 02, 2017
9:30 AM - 10:30 AM
Annunciation Greek Orthodox Church
64 Hershey Ave.
Lancaster, PA

Map and Directions

Services

Friday, June 02, 2017
10:30 AM
Annunciation Greek Orthodox Church
64 Hershey Ave.
Lancaster, PA

Map and Directions