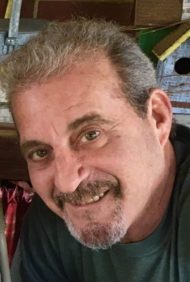 Anthony W. "Tony" Shiffler, 62
March 09, 2018
Anthony W. "Tony" Shiffler, 62, of Lancaster, passed away unexpectedly at his residence on March 9, 2018. Born in Lancaster, he was the son of the late Ida L. (Dearoff) and Albert B. Shiffler.
Tony was a long-time employee at High Industries, working in their service center. When Tony wasn't at work he could be found riding motorcycles, bowling with his son Rory, or playing his bass guitar. He enjoyed watching Indy and Grand Prix racing and was a devoted Oakland Raiders fan. Tony will be remembered for his wonderful sense of humor, and his adoration for classics like "The Honeymooners" and "Columbo."
He is survived by his son and best friend Rory Shiffler, his siblings Cindy Goodhart (Gary), Bruce Shiffler ( Judy), and Mike Shiffler (Joyce), his step-son Ryan Larkie and his step-grandchildren Devon, Jade, and Jameson Larkie. He is predeceased by his parents and one son, Devon Shiffler.
A Celebration of Life will be held at Charles F. Snyder Jr. Funeral Home & Crematory located at 3110 Lititz Pike, Lititz, PA 17543 on Saturday March 17, 2018 at 11AM. Family will be receiving friends beginning at 9:30AM until 11AM. In lieu of flowers, memorial contributions can be made to Hospice and Community Care at 685 Good Dr. Lancaster PA, 17604.
Leave a condolence on this Memorial Page
Condolences to the Family
March 15, 2018
Remember the music. Sorry for your loss.
Paula Current
March 14, 2018
Cindy, Bruce and Mike,
On the heels of losing your mom, this must be especially difficult. I am so sorry for your loss. I remember meeting Mike many years ago. He was full of life and I'm sure you will miss him. Bill joins me in sending our condolences.
Donna Whitesel (Judy's sister)
March 14, 2018
Bruce,
Sending our condolences and prayers to you and your family on the loss of your brother.
Andy & Gretchen Homan
March 14, 2018
Bruce, Cindy & Mike,
So sorry on the loss of your brother. He looks just like your Dad and sounds like he has Al's sense of humor too! Losing your Mother and now brother is a burden to bear. Our hearts and prayers go out to you all and especially to his son Rory.
Linda (Rankin) and Tom Landis
March 14, 2018
Bruce-
Sorry to hear of your loss. You and your family are in our thoughts and prayers.
Mitch and Cherie Boswell
March 14, 2018
Bruce, I am so sorry to hear of the passing of your brother. My thoughts are with you and your family.
Deborah Shepherd-Thompson
March 14, 2018
Prayers to the Family havent seen Tony for awhile this was shocking but brought me back to younger years and great times. Peggy McCoy Giberson

March 13, 2018
Tone Man…..words seem trite at such a time. You left us WAY TOO SOON! It's one thing knowing one is terminally ill. It's an entirely different thing when one passes so totally unexpected. It certainly makes one aware of his/her mortality. The TRIBE has lost one of it's own. Conversely, the 'band' in Heaven has gained a very capable bass player! Until that time, Tone Man….until that time…
I love you brother…..
Yeffa
March 13, 2018
Bruce so sorry to hear of the passing of your brother. Our thoughts and prayers are with you. Andy & Jayne Seymour
March 13, 2018
Tony the last 39 years we worked together was aewsome. No matter how bad a day we were having we always found something to laugh . i will forevet remember our talking about our old tv shows we loved and how we laughed about wrestling on tv. You will always be with me and every time i watch the old shows will remember you. See you again someday yill then goodbye my frie d and rest well alan tshudy
March 13, 2018
Prayers and thoughts go out to Tony's family.R.IP Tony my friend.It was shocking to hear.Had alot of good times,from childhood on.Fly high my friend.cindy mattern
March 13, 2018
Prayers to your family remembering fond old memories
Visitation

Saturday, March 17, 2018
9:30 AM - 11:00 AM
Charles F. Snyder Funeral Home & Crematory
3110 Lititz Pike
Lititz, PA 17543

Map and Directions

Services

Saturday, March 17, 2018
11:00 AM
Charles F. Snyder Funeral Home & Crematory
3110 Lititz Pike
Lititz, PA 17543

Map and Directions