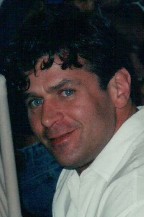 Anthony J. Mariani, III, 51
Anthony J. Mariani III, 51 passed away on Monday May 6th, 2013 of natural causes. A resident of Lancaster County most of his life, he was born to Anthony J Mariani Jr and Linda C. Mariani on November 3rd, 1961.
Anthony attended Lancaster Catholic High and worked as a counselor for Narconon in Georgia. He was a man that was blessed with a great sense of humor and could always make you laugh even in difficult times. No matter what was happing in his life he was an eternal optimist and would find a positive note about everything even when it seemed the worst was unending.  He was forever seeking peace within himself.  He had a special love for his 6 children and was a very kind, caring and gentle soul.  He was loved and will be missed by all.
He is survived by 6 children Anthony J Mariani IV, Justin Mariani, Christina Mariani all from Lancaster, Caleb Mariani , York, Dominic and Nico Mariani, Georgia; grandchild Alyssa; sisters Gina Mariani, Bainbridge & Cami Baker wife of Duane Baker Elizabethtown;  Aunt Roe Mariani, Lancaster and many nieces and nephews.
Friends will be received on Wednesday, May 15, 2013 from 4-6PM at the Charles F. Snyder Jr Funeral Home & Crematory, 3110 Lititz Pike, Lititz, PA. The Mass of Christian Burial will be from St. Mary's Catholic Church, 119 S. Prince St., Lancaster, PA 17603 on Thursday, May 16, 2013 at 2PM, the Rev. Leo Goodman as Celebrant. Interment in St. Mary's Catholic Cemetery. In lieu of flowers, please make contributions in Anthony's memory to St. Mary's Catholic Church at the above address or to the Boys and Girls Club of Lancaster, 116 S. Water St., Box 104, Lancaster, PA 17608. To send an online condolence, please visit SnyderFuneralHome.com. Charles F. Snyder Jr Funeral Home & Crematory 717-560-5100
Leave a condolence on this Memorial Page

Roe,
My deepest sympathy and prayers for you and your family on the passing of Anthony. I will be unable to attend the Mass but will keep you all in prayer.
God bless you all,
Janet Bennett
Gina and Cami, please accept our sincere condolences in the loss of your brother. Your family will be in our prayers.
Steve Hohn and family
My deepest sympathy and prayers for you and your family on the passing of Anthony. You are in my thoughts and prayers.
Ingrid Hatz
Tony and family,
Our sincere sympathy in the passing of your son, Anthony. Please know that our thoughts and prayers are with you.
Bob & Kris Trainer
My sincere condolences to the Mariani family. I went to school with Anthony at LCHS…he was quite a character, always making me laugh! My thoughts and prayers will be with you!
Mary A. Malone
Tony, Roe and Gina,
My sincere condolences on the loss of Anthony. My prayers are with you. God bless..
Walter Siderio
Gina, Cami and Tony, I remember Anthony as a little boy, his smile, and his fun character. Gina, you will remember the day when your Mom and I took you and Anthony, Steve and Bill away for the day. And how, when you were all in the caboose of that train and Anthony covered Steve's eyes with his hand. I didn't realize it until I had the pictures developed. Some things we never will, nor will we want to forget. I am so sorry that you lost Anthony but he is with his Mom and in good care. Gloria Sheldon